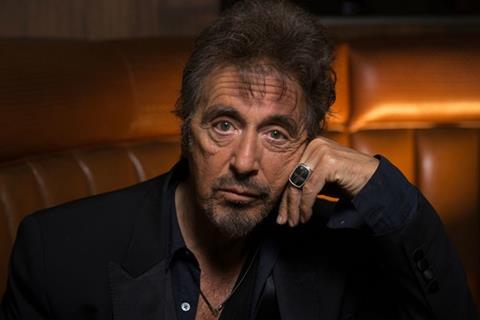 Al Pacino is reportedly close to signing on to co-star in Jordan Peele-produced Amazon Studios series The Hunt.
The project would mark the streaming series debut of Oscar-winner Pacino, whose notable previous television roles have been in HBO movies Paterno, Phil Spector and You Don't Know Jack and HBO miniseries Angels In America. He won Emmys for his performances in the latter two projects.
Pacino would join previously announced lead Logan Lerman on the cast of The Hunt, about a diverse group of Nazi hunters living in 1977 New York City who discover that hundreds of high ranking Nazi officials are living among the population and conspiring to create a Fourth Reich in the US.
Amazon, which did not confirm the casting reports, gave the project a direct-to-series 10 episode order last May. Peele will be an executive producer on the series, being produced by his Monkeypaw Productions and Sonar Entertainment. Creator David Weil will write the series and serve as another executive producer, along Nikki Toscano (who will act as co-showrunner with Weil), Sonar's Tom Lesinski and Jenna Santoianni and Monkeypaw's Win Rosenfeld.
Monkeypaw also signed a first-look television deal with Amazon Studios last summer.