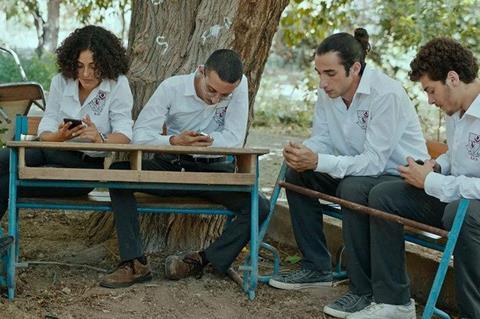 Firas Khoury's Alam, a coming-of-age drama about Palestinians growing up in Israel, has won 2022 Cairo International Film Festival's Golden Pyramid for best film in the international competition.
Alam also took the audience award while Mahmoud Bakri shared the best actor prize with Maher Elkheir for Ali Cheri's The Dam. The best actress award went to Zelda Samson for Love according To Dalva by Emmanuelle Nicot, who earned the Silver Pyramid special jury award for best director.
The Bronze Pyramid Award for best first/second work went to Bread And Salt by Damian Kocur, and Kosuki Mukai claimed the Naguib Mahfouz Award for Best Screenplay for A Man. Cinematographer Mostafa Elkashef took the Henry Barakat Award for Best Artistic Contribution for his work on 19B.
In the Horizons Of New Arab Cinema Competition Awards, Mother Valley by Carlos Chahine took the Saad Eldin Wahba Award for Best Arabic Film, Riverbed by Bassem Breche earned the Salah Abu Seif Award the Special Jury Award, Far From The Nile by Sherief Elkatsha earned the Best Non-Fiction film Award, and the Best Acting performance Award went to Carole Abboud for Riverbed.
I'm Coming Home by Yassine Redissi and Houria by Mounia Meddour (actress Lyna Khoudri) earned special mentions.
In the International Critics' Week Competition Awards, the Shadi Abdel Salam Award for Best Film was awarded to Pamfir director Dmytro Sukholytkyy-Sobchuk, while Pakistan's Oscar submission Joyland by Saim Sadiq earned the Fathy Farag Award for Best Artistic Contribution, and a special mention went to Victim by Michal Blasko.
Short Film Competition Awards saw the Youssef Chahine Award for Best Short Film go to Rosemary A.D. (After Dad) by Ethan Bakhret, the Special Jury Award go to My Girlfriend by Kawthar Younis, and a special mention for One Fucking Wish by Piotr Jasiński.
The Best Arab Film Award went to 19B while Riverbed earned a special mention. 19B also took the FIPRESCI Prize. The festival ran from November 13-22.