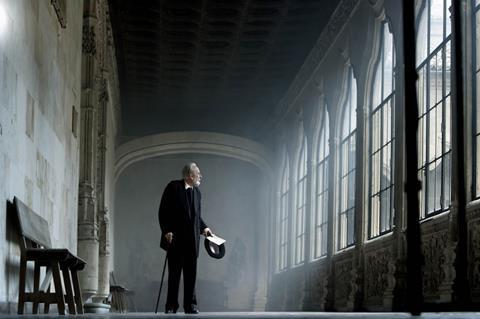 Alejandro Amenábar's While At War is one of 15 Spanish films selected for the various strands of the 2019 San Sebastian International Film Festival (SSIFF) which will run from September 20 -28 this year.

The historical drama is about writer Miguel de Unamuno's involvement in the Spanish Civil War and stars Karra Elejalde. Amenabar was last at San Sebastian with Regression which opened the festival out of competition in 2015.
It has not been announced if the film is having its world premiere at SSIFF, suggesting an earlier debut at either Venice (where Amenabar's The Others and The Sea Inside both premiered in 2001 and 2004 respecitvely) or Toronto.
Aitor Arregi, Jon Garaño and Jose Mari Goenaga's The Endless Trench has also been selected for competition and is also set during the Spanish Civil War. It is about a man who hides in a house from the conflict and stays there for 33 years.
Arregi, Garaño and Goenaga previously played in San Sebastian with Flowers in 2014 and The Giant in 2017. The latter went on to win 10 Goya awards.
The third Spanish film in competition is Belén Funes' directorial debut A Thief's Daughter, about a young mother looking whose attempts to get her life back together are obstructed by the return of her long-absent father.
Scroll down for the full list of Spanish titles
Further Spanish titles in official selection are Daniel Sánchez Arévalo's young offender drama Seventeen, playing out of competition; and Sebastián Borensztein's Heroic Losers starring Ricardo Darín as a special screening.
Among the other Spanish-produced titles are world premieres of two series: the six-episode The Prosecutor, The President And The Spy by Justin Webster, and Leticia Dolera's eight-episode Perfect Life.
Earlier this month Woody Allen began shooting his new film in San Sebastian, set against the backdrop of the festival.
Official Selection - in competition
A Thief's Daughter (Sp)
Dir: Belén Funes
The Endless Trench (Sp-Fr)
Dirs. Aitor Arregi, Jon Garaño, Jose Mari Goenaga
While At War (Sp-Arg)
Dir: Alejandro Amenábar
Official Selection - out of competition
Seventeen (Sp)
Dir: Daniel Sánchez Arévalo
Official selection - special screening
Heroic Losers (Arg-Sp)
Dir: Sebastián Borensztein
New Directors
The Innocence (Sp)
Dir: Lucía Alemany
Jordi's Letters (Sp)
Dir: Maider Fernandez Iriarte
Zabaltegi-Tabakalera
The Prosecutor, The President And The Spy (Sp-Ger) TV series
Created by Justin Webster
The Golden Legend (Sp) Short film
Dirs.:Ion De Sousa, Chema García Ibarra
Escenas De Vida (Sp) Short film
Dir: Izibene Oñederra
Urpean Lurra (Sp) Short film
Dir: Maddi Barber
Perlak
The Fire Will Come (Sp-Fr-Lux)
Dir. Oliver Laxe
Velodrome
Turu, The Wacky Hen (Sp-Arg)
Dirs: Victor Monigote, Eduardo Gondell
Perfect Life (Sp) TV series
Created by Letiia Dolera.
RTVE Gala
Adiòs (Sp)
Dir Paco Cabezas