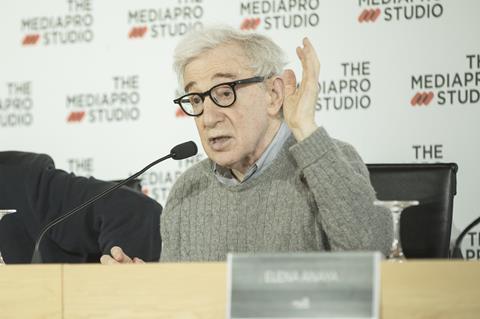 Woody Allen's new film, a romantic comedy starring Gina Gershon and Christoph Waltz and set against the backdrop of the San Sebastian Film Festival, starts filming tomorrow in the Spanish city.
It has a working title of Rifkin's Festival, the director revealed at a press conference in San Sebastian today (July 9). He was joined by the film's producer Jaume Roures from Barcelona-based The Mediapro Studio as well as Gershon and further cast members Wallace Shawn (an Allen regular who has appeared in many of his films since Manhattan), and Spanish actors Elena Anaya and Sergi López.
"I never think of retiring, it's just not something that has occurred to me," said Allen in response to a question about the professional difficulties he is experiencing over the long-running controversy around his alleged prior sexual misconduct, which he has consistently denied.
"My philosophy, since I started many years ago in show business, is that no matter what happens is to keep focused on my work," he continued. "No matter what happens in my life with my wife, children, current events, politics or illness, I focus on my work and that's all that really absorbs my time and effort seven days a week. I deal mostly with human relations, people and comedy. So I don't think of retiring. I'll probably die in the midst of setting a film shot one day on the set, making a movie."
Allen's last finished film, A Rainy Day In New York, is still awaiting a distribution deal in the US and Allen is in a legal battle with Amazon Studios after it withdrew from a four-film deal with Allen.
"I have no news whatsoever about the release [of A Rainy Day In New York] in the United States. It's going to open in a couple of weeks in Europe. In the US either one distributor will come forward or not, I have no control over that. I can only make the film and hope that people will enjoy it. All I know is there are no plans to release it at the moment. I don't know what will happen. It's out of my control."
Rifkin's Festival is about an American couple, played by Gershon and Waltz, who travel to San Sebastian to attend its film festival. They both fall in love with other people: he for the character played by Elena Anaya and she for a Frenchman played by Louis Garrel.
Cast reaction
Asked about their feelings about working with Allen in the context of #MeToo and the allegations that dog Allen, the two actresses present at the press conference, Gershon and Anaya, said how honoured they were to be involved in the film. Anaya, who Allen discovered in Almodóvar's The Skin I Live In, described the director as "a genius, one of the best film directors in the world".
Anaya added: "I'm responsible for the projects I choose, and he has written a wonderful character for me. As a woman and as an actress I feel very lucky to be able to work with him."
"It's a wild time in America," said Gerson. "I personally think that you really have to look at every single situation and decide about how you feel about it. I can say with a very fair conscience, I'm so thrilled to be here. It feels like a dream come true. While I think there's a lot of good coming out of these different movements, I also feel that it's really important that people take a look at every single situation and make up their own minds about it."
Barcelona-based The Mediapro Studio is producing Rifkin's Festival, still officially known as WASP2019 (Woody Allen Summer Project 2019) with Allen and Letty Aronson's Gravier Productions.
Producer Jaume Roures, founder and managing partner of Mediapro, confirmed FilmNation and Mediapro will handle international sales. "We are just a drop in his ocean of creativity," said Roures of working with Allen.
The Spanish company previously co-produced Allen's Midnight In Paris, You Will Meet A Tall Dark Stranger and Vicky Cristina Barcelona.
The new film will shoot until August 23, a month before the real San Sebastian Film Festival opens on September 20. Allen has attended the festival in the past and his team plan to recreate the atmosphere of the city during the festival period.
Jose Luis Rebordinos, director of the San Sebastian Film Festival, told Screen the festival is cooperating with the shoot: "The production department of the festival is helping the film's creative team to make the look of the festival as it appears in the film as close as possible to the look of the real festival."
Allen said he was looking forward to spending the summer in the Spanish city. "I don't like to leave my home in New York for a long period of time, but San Sebastian is an exceptionally beautiful city and it seemed a place me and my family could enjoy."