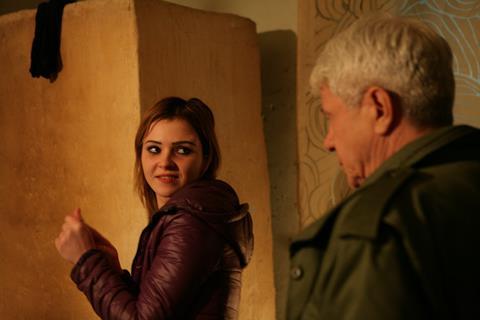 Sarajevo Film Festival (SFF, August 16-23) has unveiled the line-up for its 25th edition, with nine feature world premieres playing in the two main competitive sections.
Scroll down for the full list of titles
These include Romanian filmmaker Cătălin Mitulescu's fourth film Heidi in the feature competition, about an ageing police officer tasked with finding two prostitutes who he needs to testify in an organised crime case.
Mitulescu debuted with The Way I Spent The End Of The World which won Dorotheea Petre the best actress prize in Un Certain Regard at Cannes 2006; his most recent title, 2016's By The Rails, picked up a special mention at Karlovy Vary Film Festival that year.
Also debuting in the feature film competition is Bosnian filmmaker Ines Tanović's sophomore film as director Son, about the life of an adopted teenager in modern Sarajevo.
Tanović, a native of the city, debuted her first film Our Everyday Life at the festival in 2015. It went on to tour the festival circuit and became Bosnia and Herzegovina's submission for the foreign language award at the 2016 Oscars – the same award won by Tanović's cousin, Danis Tanović, with No Man's Land in 2002.
The festival will play 25 titles across its feature film and documentary film competitive sections – nine in the former and 16 in the latter. Of the 16 documentary titles, 10 are of feature length (more than 60 minutes). There are four world premieres in the feature film section, and five feature world premieres in the documentary section.
Films to play in the festival having launched elsewhere on the circuit include Bosnian director Ena Sendijarević's Take Me Somewhere Nice, which won a special mention at Rotterdam Film Festival where it premiered in January; and Tamara Kotevska and Ljubomir Stefanov's documentary Honeyland about Europe's last female bee hunter, which won three prizes on debut in January at Sundance Film Festival – the cinematography, special jury and grand jury prizes in the world cinema documentary section.
In total, 53 films will compete for the Heart of Sarajevo awards at this year's festival, across the feature, documentary, short and student film sections. The 53 titles were chosen from 950 submissions, of which 150 were features, 180 documentaries, 420 shorts and 200 student titles.
The full line-up is available on the SFF site.
As Screen revealed earlier this year, Swedish filmmaker Ruben Östlund will chair the jury at this year's SFF, which also includes outgoing Rotterdam festival director Bero Beyer, Netflix executive Funa Maduka, Serbian actress Jovana Stojiljkovic and North Macedonian filmmaker Teona Strugar Mitevska.

2019 Competition programme (feature films)
Feature film
A Tale Of Three Sisters (Tur, Ger, Neth, Gre)
Dir. Emin Alper
And Then We Danced (Geo, Swe, Fr)
Dir. Levan Akin
Cat In The Wall (Bul, UK, Fr)
Dirs. Mina Mileva, Vesela Kazakova
Heidi (Rom), world premiere
Dir. Cătălin Mitulescu
Mo (Rom)
Dir. Radu Dragomir
Open Door (Alb, It, Kos, Mac), world premiere
Florenc Papas
Rounds (Bul, Ser), world premiere
Dir. Stephan Komandarev
Son (Bos-Her, Cro, Rom, Slovenia, Mont), world premiere
Dir. Ines Tanović
Take Me Somewhere Nice (Bos-Her, Neth)
Dir. Ena Sendijarević
Documentary film (feature-length titles)
A Small Documentary About 3 Letters (Bos-Her, Ser, Fr), world premiere
Dir. Goran Bregović
Daughter Of Camorra (Slov, Ita), world premiere
Dir. Siniša Gačić
Honeyland (N. Mace)
Dirs. Ljubomir Stefanov, Tamara Kotevska
How Far The Stars (Hun, US), world premiere
Dir. Katalin Barsony
Palace For The People (Bul, Rom, Ger)
Dirs. Boris Missirkov, Georgi Bogdanov
Queen Lear (Tur), world premiere
Dir. Pelin Esmer
The Euphoria Of Being (Hun)
Dir. Réka Szabó
The Golden Girl (Rom), world premiere
Dirs. Denisa Morariu-Tamas, Adrian Robe
The Soviet Garden (Mold, Rom), world premiere
Dir. Dragoș Turea
When The Persimmons Grew (Az, Austria)
Dir. Hilal Baydarov
When Tomatoes Met Wagner (Gr)
Dir. Marianna Economou