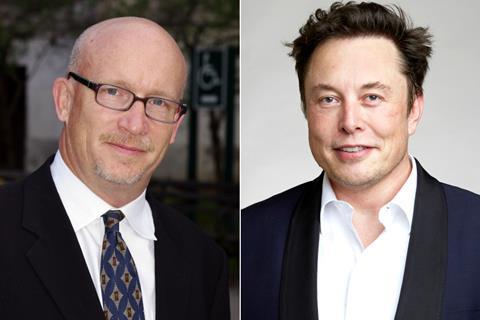 Alex Gibney has revealed he is months into making Musk, a documentary about Elon Musk, the controversial multi-billionaire and CEO of Tesla, Space X and Twitter.
Jigsaw Productions is producing the film alongside Closer Media, Anonymous Content, and Double Agent, the joint venture between New Regency and Black Bear Pictures, who are also financing the project.
Gibney and Jessie Deeter are producing for Jigsaw Productions alongside Dana O'Keefe for Double Agent, Joey Marra and Zhang Xin on behalf of Closer Media, and Anonymous Content's Nick Shumaker and Jessica Grimshaw.
Stacey Offman and Richard Perello serve as executive producers with Closer Media's William Horberg, Anonymous Content's Dawn Olmstead and David Levine, and Teddy Schwarzman, Michael Heimler, Yariv Milchan, and Michael Schaeffer for Double Agent.
"I have been working on this film, off and on, for some time and am hugely excited about it," said Gibney. "I am delighted by this extraordinary group who are working with me. Onward!"
"Now is the moment for a rigorous portrait of Elon Musk, who is undeniably one of the most influential figures of our time," added Xin, the founder of Closer Media. "Closer Media is thrilled to join forces with Alex Gibney, Anonymous Content, and Double Agent to take on the challenge of examining Musk and his impact on the world."
AC Independent, Double Agent, and UTA Independent Film Group jointly represent worldwide sale. UTA also represents Gibney and Jigsaw Productions.
Gibney's credits include the Oscar-winning Taxi To The Dark Side and Enron: The Smartest Guys In The Room, Going Clear: Scientology And The Prison Of Belief.