Mostafa teaming with Image Nation and US producers Peter Safran and Steven Schneider.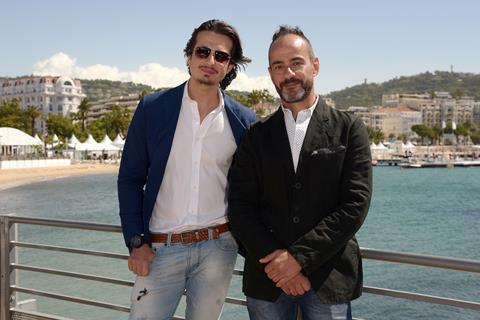 Image Nation Abu Dhabi and US producers Peter Safran and Steven Schneider have boarded Emirati filmmaker Ali Mostafa's next feature The Worthy.
Set in a dystopian future plunged into chaos by a chronic water shortage, the story follows a group of survivors seeking refuge near a rare remaining clean water source
When two visitors infiltrate their compound, they soon become pawns in a test for survival, where only one of them shall be chosen as worthy.
It is a first action thriller for Mostafa whose last film was the tragi-comic Middle East road movie From to A to B.
"The Worthy is a new adventure for me. Peter and Steven, have produced some of the best genre movies ever made with critical and commercial hits such as The Conjuring and Paranormal Activity," said Mostafa who was in Cannes on Friday (May 15) to promote the project.
"They're really at the top of their game right now and their expertise will be invaluable on The Worthy so I'm excited to be working with them.
Imagenation producer Rami Nasin, who previously worked on From A to B as well as the films of Nawaf Al Janahi's Sea Shadow and Annemarie Jacir's When I Saw You, is attached to the project.
"I've been thinking of doing genre for a long time and Imagenation approached me with the script. This is first film I'll be directing a film I didn't actually write it. I'm hired as a director on this and it's exciting," said Mostafa.
Mostafa said the shooting location and cast had yet to be set for the film which will be Arabic.
"It will be set somewhere in the Arab world but we haven't decided where that will be," he said. "But at the of the day it's based in one compound so the backdrop is not so important. We're also still finalising the cast and I'm sure we'll have one or two guys with whom I've worked with in the past."
The news comes hot on the heels of Image Nation's announcement that it will fully finance James Ponsoldt's adaptation of Dave Eggers' contemporary thriller The Circle starring Tom Hanks and Alicia Vikander.
Other Recent productions from Emirati directors include the first feature Majid Al Ansari, Zinzana, which just wrapped and is due to be released this autumn.
"The film industry in Abu Dhabi is at an extremely exciting time in its development, I am looking forward to playing a small part in its growth by working on this fantastic film," said Safran.
"Image Nation is a pioneering force in the UAE community and Ali Mostafa is such a unique talent. I think we have an amazing team working on this project and I'm grateful to be a part of it," added Schneider.
Mostafa's last film From A to B, co-produced by twofour54 and Image Nation, is currently topping the iTunes charts across the Middle East having been released theatrically in January. It will also hit screenes in the UK (StudioCanal) and Italy (Cineama) this year.