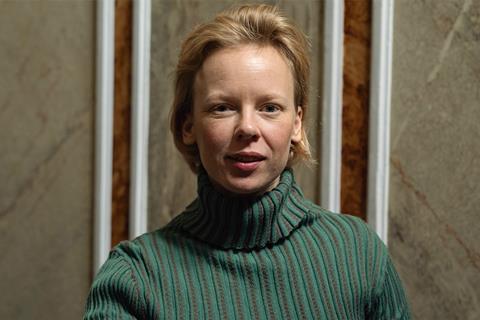 Alma Pöysti is set to play famed artist, author and Moomins creator Tove Jansson in Zaida Bergroth's Swedish-language biopic Tove which has started shooting in Helsinki. The actress is Swedo-Finnish, like Jansson herself.
Produced by Helsinki-filmi, whose credits include Tom of Finland, Dogs Don't Wear Pants, Tove is the first feature based on Jansson's life. It will also be Pöysti's first lead screen role. She has previously played Jansson on stage at Svenska Teatern in Helsinki.
"I needed to find somebody who would have the right kind of aura, the right kind of 'Tove energy'- a person who could have actually created something as fantastical as the Moomins," said Bergroth of Pöysti: Alma has it all: the intellect, the melancholy, the warmth and the flirting."
The cast also includes Krista Kosonen and Shanti Roney.
Eeva Putro wrote the script, which concentrates on the period 1944 to 1956. Those were the years when, as a young painter, Jansson created the Moomins and embarked on a passionate affair with female theatre director Vivica Bandler.
"People tend to see Tove as an older woman who told fairytales for children," said Andrea Reuter, who produces alongside Aleksi Bardy. "In the film, we see she was a passionate and wild woman who challenged the norms of the society she lived in. She loved both married men and women, she loved to party and she was constantly creative: painting, writing and drawing."
LevelK is handling international sales and Nordisk will distribute in the Nordic region.
Tove is being co-produced by Anagram Sweden. The backers are the Finnish Film Foundation, Business Finland, Nordisk Film & TV Fond, Swedish Film Institute, SVT, YLE, Eurimages, MEDIA/Creative Europe and the foundations Svenska Kulturfonden, Konstsamfundet, Tre Smeder and Svenska Folkskolans Vänner.
The filmmakers are collaborating with Tove's niece Sophia Jansson, chairman of family-owned Moomin Characters, whose team has given advice on the script during development and also given the film team full access to their archives, including never before seen documents and drawings.
The Swedish-language film, budgeted at $4m (€3.6m), will shoot for 30 days all over Helsinki, including in Jansson's old apartment at artist residence Lallukka and at the famed restaurants Kosmos and Elite. Elsewhere, there will be two days shooting in the archipelago, and one day of shooting exteriors in Paris.
Sweden's Linda Wassberg serves as DoP and other key crew includes production designer Catharina Nyqvist Ehrnrooth, costume designer Eugen Tamberg, editor Samu Heikkilä, and composer Matti Bye.
Pöysti's grandparents Lasse Pöysti and Birgitta Ulfsson were actors and acted in the original Moomin plays by Tove Jansson.
Bergroth's credits include The Good Son, Miami and Maria's Paradise.