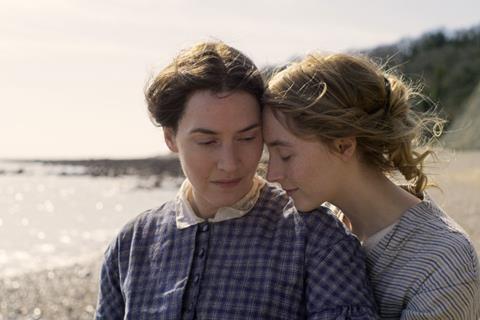 Neon is releasing Francis Lee's UK awards contender Ammonite theatrically on Friday (November 13) in the US followed by the company's first PVoD release on December 4.
"This is our first PVoD release that we've done and we're really excited about it," said Neon president of distribution Elissa Federoff during a keynote conversation on opening day of AFM 2020 Online.
"Inside this pandemic and inside this award season, this is a highly strategic way that we are releasing this film. LA is not open, New York is not open, San Francisco is not open, so we don't see the theatrical box office at this moment to be the same as it has been in the past and as we believe it will be in the future."
Federoff, who orchestrated the Oscar-winning campaign for Bong Joon Ho's best picture and multi-award winner Parasite, said VoD has worked well for the company before with Bachelorette and Snowpiercer. She added that in the case of the latter, VoD was so robust "it actually made the film just as viable as if we had put it in theatres and spent the P&A".
Hope for exhibition
She continued, "So this works great for Ammonite [which stars Kate Winslet and Saoirse Ronan]. We have several other movies on our slate and we would absolutely love to see them in theatres. We have Gunda, we have The Killing Of Two Lovers, we have several other films for next spring that we have not yet slotted for our release calendar and fingers crossed theatres are back and everyone is going."
Federoff's comments came as Pfizer and BioNTech claimed on Monday that a vaccine they are being developing had been 90% effective in blocking transmission of Covid-19 in tests on more than 43,000 trial volunteers.
News of that development sent sparked hope in the exhibition community and drove up stock prices around the world.
Federoff added, "Over the pandemic we've released a ton of films. We've released more films than probably the majority of our independent counterparts have. We've been buying films, we've been producing films. We've taken this opportunity to pivot our strategy and release our films digitally and with Hulu [Sundance acquisition Palm Springs being one example.]"
Turning to the topic of the shrinking theatrical window, the executive noted multi-platform releases have been a distribution strategy for some time, adding "We're no stranger to the short window or the multi-platform release."
She continued, "Neo is not a company that believes every film is one size fits all – there will always be films for us and for the entire world that will need a very long and thought-out release in theatres for 180 days before they go to VoD. We love those. Films like Honeyland. We would have never released that in any other way than a long thought out release. Parasite same thing."
Mark Gill: Releasing 'Unhinged' was "the hardest thing I've ever done"
Earlier in the day Solstice Studios founder and CEO Mark Gill said Monday's news from Pfizer and BioNTech was a good thing for exhibition and distribution at a time when the studios have continued to pish tentpoles into 2021.
Yet there is hope, he added. "The other thing that is incredibly heartening in the long-run is if you look at Japan and China and Korea, where the public health situation is under control, they're breaking records. So, people like going to the movies. They just want to do it in a way that allows them to relax and enjoy and feel comfortable doing it and not enough of them are right now in the US."
When US and international cinemas began to reopen, Solstice stuck with its theatrical release plan for Russell Crowe thriller Unhinged – but the former Miramax executive and head of Warner Independent Pictures suggested it was the biggest challenge of his career.
"Our idea was that we could be first and probably elevate a film of an otherwise modest budget of $33m against Tenet, which is hundreds of millions of dollars, or Mulan, and that we might have an opportunity to elevate the movie," said Gill.
"And that is actually what happened. But it wasn't for the faint of heart because we had five release dates. Every time we thought it was done another outbreak would happen somewhere in the US or theatres wouldn't open or Tenet would move. It was just the hardest thing I've ever done and I've been doing this for a long, long time."
Gill added, "And going first was important since no one else wanted to do it. I'm glad we did. It worked out well for us but it was also an important statement to make about why theatres matter and that people would go." To date Unhinged has grossed more than $41m worldwide in a roughly equal split between international and North America.
"Where possible, we want to be in theatres. That's what we're all about, so as others are running from it – you'll see the majors making fewer movies for theatres which was coming anyway, but is now just accelerated – that will create more opportunity in the long run for mid-sized films to run in the way that they used to. The impressive list of films that the AFM has been a part of for the last 40 years, those are precisely the kinds of films that are going to benefit from this once there is a vaccine."
Solstice's AFM sales title Good Joe Bell, the Mark Wahlberg drama the company snapped up in virtual Toronto, is being finessed.
"I thought it was very, very strong but not quite where it needed to be in terms of hitting critical mass. It will be done in the next two-and-a-half to three weeks and then we need to probably take it to Berlin and we're looking at releasing it for Academy Award consideration – which is by February 28th [next] year…It's an emotionally compelling film. We all unanimously agreed on that which never happens."