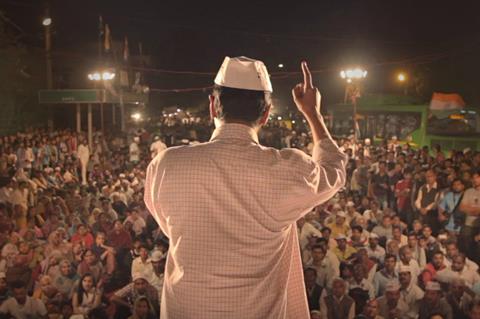 Following a protracted battle with India's censors, political documentary An Insignificant Man has been cleared for release by the Film Certification Appellate Tribunal (FACT) without any cuts.
Directed by Khushboo Ranka and Vinay Shukla, the film documents the life of Arvind Kejriwal, founder of India's Aam Aadmi party, during his election campaign in late 2012. While the film was well received at Toronto, Busan, BFI London and other international film festivals last year, it hit a roadblock when it applied for a censor certificate in India six months ago.
India's Central Board of Film Certification (CBFC) asked the filmmakers to obtain a 'no objection certificate' (NOC) from Prime Minister Narendra Modi, former Delhi Chief Minister Sheila Dixit and Kejriwal himself before the film could be certified for release. The filmmakers were also told to bleep out the names of politicians in India's main two political parties, Congress and BJP.
However, FCAT has ruled that the film can be released without any of these requirements and without cuts.
"There is considerable merit in the submission of the appellant that requiring NOC from public personalities would cull the documentary cinema, rather render the making of a documentary on political scenario nigh impossible," FCAT said in a statement.
"In these circumstances, requiring a filmmaker to obtain NOC from the affected parties or characters in the film to whom references are made, is tantamount to the CBFC abdicating its statutory functions. This is neither desirable nor permissible at law."
The decision comes days after Prasoon Joshi replaced Pahlaj Nihalani as the head of the CBFC.
Speaking to Screen, Ranka and Shukla said they plan to release the film theatrically in India in September or October, and are currently speaking to distribution partners about the release.
"We are very happy with this decision because it will allow us to show the film widely in India. It also paves the way for other filmmakers who might want to make films on real events and show real people. But it is also bittersweet, because this has been a long and resource intensive process," Ranka told Screen.
Shukla added: "The Indian censorship board has over decades gained notoriety for being in cohorts with and operating in favour of those in political power. It was important for us to fight back and it's a relief to have won the fight. However, we need urgent reforms so that more filmmakers don't have to go through this."
The FCAT previously over-turned a CBFC ruling that prevented the release of award-winning drama Lipstick Under My Burkha, which subsequently went on to have a moderately successful theatrical release.