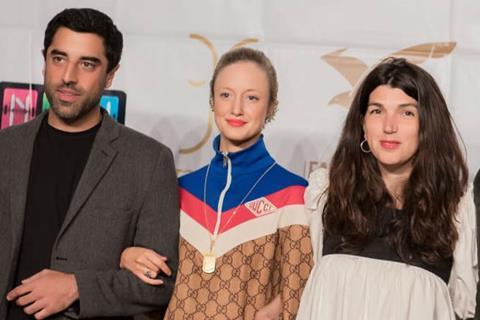 UK actress Andrea Riseborough and French-Lebanese actor Karim Saleh have signed to star in Zeina Durra's contemporary romance Luxor, which is now shooting against the backdrop of Egypt's world-famous archaeological site.
Riseborough, seen most recently in Kindness Of Strangers and Nancy, plays a UK aid worker who heads to the ancient city of Luxor for a break from her work at a clinic on the Jordanian-Syrian border, where she treats victims of the Syrian war. She rekindles a former relationship with an archaeologist, played by Saleh, whose credits include TV series Counterpart and Transparent.

Further cast members include award-winning Egyptian actress Sherine Reda (Photocopy) and US actor Michael Landes, whose credits include Hooten & The Lady and who is soon to be seen in thriller Angel Has Fallen.
The production started shooting in and around Luxor on March 11 and will continue until early April.
UK-born Durra, who is of Middle Eastern and Bosnian descent, said the setting was integral to the storyline. "It's a love story set among the instability of this moment but in a place that is a monument to past civilisations whose central beliefs, temples and obsession with the afterlife, were all rooted deeply in the idea of light overcoming darkness."
Luxor is Durra's second feature film after her well-received debut feature The Imperialists Are Alive!, which premiered at Sundance 2010. Saleh also had a small role in that film.
Rising New York-based Argentinian cinematographer Zelmira Gainz is on board as cinematographer.
Egyptian screenwriter and producer Mohamed Hefzy, whose recent credits include Cannes selections Yomeddine and Clash, is producing through his Cairo-based company Film Clinic. He is joined by compatriot and long-time collaborator Mamdouh Saba.
"It's a very intimate, personal and moving film that I hope can fulfil its ambitions and travel beyond borders," said Hefzy.
Veteran UK producer Paul Webster, whose other upcoming projects include Steven Knight's thriller Body Cross, Brady Hood's Sweet Maddie Stone and Marjane Satrapi's Radioactive, is on board as an executive producer.
Dubai-based distributors Gianluca Chakra and Hisham Al Ghanim will also be co-producing with Film Clinic under the Front Row banner.
Front Row and Film Clinic will co-distribute the film across the MENA region. This marks their first collaboration in production and will soon be followed by the Arabic-language remake of the Italian smash hit Perfect Strangers, which is aiming to shoot later this year.
Film Clinic's Paris-based representative in Europe Daniel Ziskind is also on board as an associate producer.
No international sales company has been attached yet.