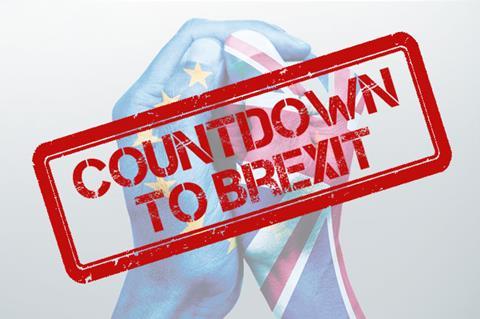 After a week of political maelstrom in the UK, with the country seemingly no closer to a solution to the ongoing Brexit conundrum, some producers in the country who are lining up shoots in Europe this summer are in the dark over whether those will be adversely affected.
The latest news is that UK prime minister Theresa May will again attempt to push her Brexit deal through parliament before March 20. That's just nine days before the country is scheduled to depart the European Union on March 29.
Other possibilities include a delay to Article 50 – which the House of Commons voted in favour of last night by 413 votes to 202 but will also need to be agreed on by the EU – and a so-called 'no deal Brexit', which would see the UK crash out immediately on March 29 with no transition period.
For some UK producers lining up shoots in Europe this summer, there is still very little clarity over how exactly they should be preparing themselves for all of these scenarios.
The Wife producer Piers Tempest of Tempo Productions is trying to schedule an Italian shoot for the UK-Italy co-production Love. Wedding. Repeat in May.
"We're probably in the dark as much as anyone else – we're assuming it's business as usual unless we're told otherwise," said Tempest.
The project is set up as a co-production under the bilateral co-production treaty between the UK and Italy. Notorious Pictures is handling the Italian side of the co-production and is accessing Italy's tax credit as part of the film's financing.
While bilateral treaties look set to be unaffected by any Brexit eventuality as they sit outside of EU influence, there are concerns about how Brexit could impact on travel, and the nationality status of projects.
"There's a lot of UK cast in this film and if there are any restrictions placed on the ability to travel, that's very problematic. If there's an extra level of administration, that's something we'll have to deal with," said Tempest. "There could be a situation where we have to do visas at very short notice."
Tempest has also opted to set the film up entirely in US dollars "because it seems to be more stable" at the moment than UK sterling. "We didn't want to have foreign exchange exposure," he added.
Also key to the project will be the film qualifying as European. If the UK crashes out of the EU, there are worries this may affect how UK co-production projects are viewed by Creative Europe's MEDIA programme, which provides key financing to European distributors.
Tempest is not the only one conscious of how a film being classified as UK may be an issue post-Brexit. In recent months, Screen has heard stories from several producers about European partners requesting films be set up as co-productions with Ireland (rather than UK) to avoid any potential complications.
One UK producer, who requested to speak anonymously, recounted one such anecdote.
"One of our projects was being developed originally as a UK-Belgium co-production. The Belgian partner recently told us they were concerned they wouldn't get approval at their end for co-production status as a result of Brexit," the producer explained. "In order to keep them involved, we were told we would need to structure the production as an Ireland-Belgium co-production and move the shoot from the UK to Ireland. Whether or not this is being fed down from various Belgian bodies or whether the company itself was spooked by the prospect, we weren't able to ascertain."
Mike Downey, founder and CEO of Film and Music Entertainment, which is registered in Dublin but straddles both Ireland and the UK, said setting his company up in Ireland was a prescient move.
"We launched Film and Music Entertainment four years ago, in a moment of prescience that anticipated the UK referendum. To date, we have led our last eight productions and co-productions through the Irish entity – sometimes partnering with the UK company when required and sometimes not," Downey commented.
"The climate in the UK for international co-operation had been fairly autumnal, and so as a company that is driven by a desire and a business model to produce world cinema, the possibilities are enhanced by having an engaged approach to European and international partnerships," he added.
Downey's upcoming films include How To Fake A War, an Ireland-Georgia co-production that shot in those two countries.
European Film Academy perspective
Downey is also deputy chairman of the European Film Academy (EFA), and the organisation discussed Brexit extensively at a board meeting this week.
"The European Film Academy is fully aware that the UK production community is about to enter uncharted territory," said Downey. "More than ever, in the current political maelstrom, we would like to offer our support to our British colleagues, who at this crucial time are part of a wider community of filmmaking. This is provided outside the EU membership by the wider Council of Europe grouping. The European Convention on Cinematography is the "mothership" that binds us all creatively and commercially together, and we hope that through this a healthy, creative and positive collaborative future can be maintained."
Downey also emphasised EFA members are hopeful the UK may remain a member of Creative Europe even in a post-Brexit world. "There are a number of non-EU countries who participate in the Creative Europe programme – and hopefully this is a path that the British cultural authorities in the audio-visual field are considering," he added.
For Tempest, the reality is that a delay in the UK's exit from the EU beyond his film's shoot currently looks like the best-case scenario. Alternatively, "if the whole thing goes away, that's even better," he adds.
"Film is a truly collaborative international effort, anything that limits that is a mistake, especially in this market. We should be extremely outward looking when making movies," said the producer.
The British Film Institute has published a detailed Q&A, last updated on February 26, with the latest Brexit advice for the UK's screen sectors.