Istanbul event will host a total of 23 gala screenings, including the latest films from Charlie Kaufman and Jean-Marc Vallee, as well as a David Bowie tribute programme.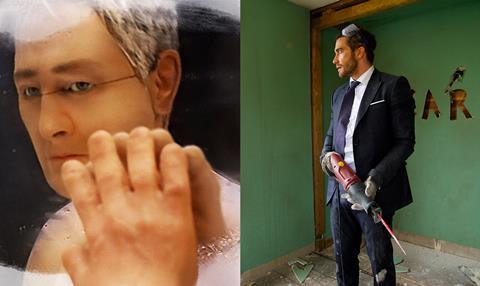 Scroll down for the full line-up
!f Istanbul Independent Film Festival has revealed its programme for the 2016 edition (February 18-28).
Charlie Kaufman's Anomalisa, which premiered at Telluride last year, and Jean-Marc Vallee's Demolition, which opened the Toronto International Film Festival in 2015, will open and close the festival respectively.
!f Istanbul - in its 15th edition - will host screenings, competitions and events dedicated to bringing the best of independent film to the Turkish city.
Other gala presentations will include Luca Guadagnino's A Bigger Splash, Gaspar Noé's Love 3D, Jeremy Saulnier's Green Room and Hou Hsiao-Hsien's BAFTA-nominated The Assassin.
In memory of the late musician David Bowie, the festival will show remastered versions of his films The Man Who Fell To Earth and The Hunger.
The festival will also host a competition for the 'most inspired director of the year', open to directors on their first or second feature.
Competing for this year's $10,000 prize are nine titles including Steve Oram's debut film AAAAAAAAH! as well as Peter Middleton and James Spinney's Notes On Blindness. A special jury prize will also be awarded.
The competition's jury is comprised of actor and film-maker Desiree Akhavan; MoMA curator Joshua Siegel; actress and editor Dounia Sichov, actor and screenwriter Mert Firat; and Cinema Scope magazine editor Mark Peranson.
Eight films will compete for the festival's Love & Change award, which recognises the best in activist documentary and art cinema, including Sean McAllister's BAFTA-nominated A Syrian Love Story, Kim Longinotto's Dreamcatcher and the premiere of Melis Birder's documentary Baglar about a Turkish basketball team.
The competition's jury includes Adam Curtis, the director of Bitter Lake (which will screen at the festival), art critic Şener Özmen and documentary producer Philippa Kowarsky.
Other highlights of the festival's programme include screenings of Deniz Erguven's Oscar-nominated Mustang, which will be part of the !f² initiative and will screen in 33 cities, and Stevan Riley's BAFTA-nominated documentary Listen To Me Marlon, which will compete in the Art & Life strand.
Dark & Edgy, the festival's genre section, will screen Takashi Miike's Yakuza Apocalypse, David Sandberg's Kung Fury and François Simard, Anouk Whissell and Yoann-Karl Whissell's Turbo Kid.
The !f music strand will host showings of Amy Berg's Janis: Little Girl Blue, Brett Morgan's Cobain: Montage Of Heck and Ido Haar's Thru You Princess, while there will be a screening of Oscar-shortlisted Viva in the Rainbow section.
See the main festival strands below, or browse the full programme here.
Gala screenings:
"A Bigger Splash" (dir. Luca Guadagnino)
"Anomalisa" (dir. Charlie Kaufman, Duke Johnson) (!f Istanbul opening film)
"Boris sans Béatrice/Boris without Béatrice" (dir. Denis Côté)
"Brand: A Second Coming" (dir. Ondi Timoner)
"Demolition" (dir. Jean-Marc Vallée) (!f Istanbul closing film)
"The Diary of a Teenage Girl" (dir. Marielle Heller)
"The End of the Tour" (dir. James Ponsoldt)
"Green Room" (dir. Jeremy Saulnier)
"He Named Me Malala" (dir. Davis Guggenheim)
"I Smile Back" (dir. Adam Salky)
"Innocence of Memories" (dir. Grant Gee)
"Into the Forest" (dir. Patricia Rozema)
"James White" (dir. Josh Mond)
"Kill Your Friends" (dir. Owen Harris)
"Krisha" (dir. Trey Edward Shults)
"Les Deux Amis/Two Friends" (dir. Louis Garrel)
"Love 3D" (dir. Gaspar Noé)
"Mon Roi/My King" (dir. Maïwenn)
"Nie Yinniang/The Assassin" (dir. Hou Hsiao-Hsien)
"Þrestir/Sparrows" (dir. Rúnar Rúnarsson)
"Tangerine" (dir. Sean Baker)
"This Changes Everything" (dir. Avi Lewis)
"The Wolfpack" (dir. Crystal Moselle)
!f Inspired:
"AAAAAAAAH!"/UK (Dir. Steve Oram)
"Bîranîna Hespa Reş/Black Horse Memories"/Turkey, Iran (Dir. Shahram Alidi)
"Crumbs"/Spain, Ethiopia, Finland (Dir. Miguel Llansó)
"Lu bian ye can/Kaili Blues"/China (Dir. Bi Gan)
"MA"/USA (Dir. Celia Rowlson-Hall)
"Ma dar Behesht/Paradise"/Iran, Germany (Dir. Sina Ataeian Dena)
"Ni Le Ciel Ni La Terre/The Wakhan Front"/France, Belgium (Dir. Clément Cogitore)
"Notes on Blindness"/UK, France (Dir. Peter Middleton, James Spinney)
"Versarti / Hidden" Turkey (Dir. Ali Kemal Cinar)
Love & Change:
"The Russian Woodpecker"/UK (dir. Chad Gracia)
"Bella e perduta/Lost and Beautiful"/Italy (dir. Pietro Marcello)
"Yallah! Underground"/Czech Republic, Germany, UK, Egypt, Canada, USA (dir. Farid Eslam)
"Sonita"/Iran, Germany, Switzerland (dir. Rokhsareh Ghaem Maghami)
"Dreamcatcher"/UK (dir. Kim Longinotto)
"A Syrian Love Story"/UK, France, Lebanon, Syria (dir. Sean McAllister)
"When The Earth Seems To Be Light"/Georgia, Germany (dir. Salome Machaidze, Tamuna Karumidze, David Meshki)
"Baglar" Turkey (dir. Melis Bider)