Universal becomes first distributor to have four films hit the £30m mark in a calendar year as Minions reaches $50.3m (£32.3m).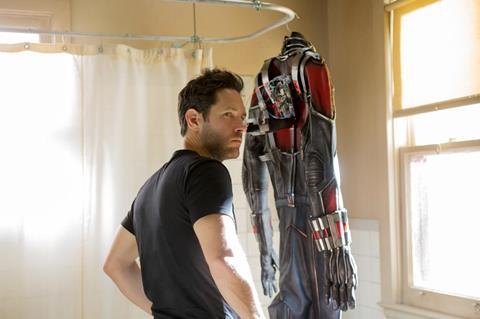 DISNEY
Marking the first non-Universal number one since Spy over the June 5-7 weekend, Ant-Man has continued Marvel's run of top spot debuts.
Disney's latest superhero outing with a solid $6.2m (£4m) from its 550 sites. Though it ranks towards the lower end of Marvel bows, it did debut ahead of Captain America: The First Avenger ($4.6m/£3m) and The Incredible Hulk ($5.1m/£3.3m).
Based solely on Fri-Sun figures, Ant-Man also opened higher than Thor which struck up $8.5m (£5.4m), but included $3.6m (£2.3m) in previews.
Given its strong critical response, Ant-Man could be well-set for a lengthy run and will be looking to challenge the final results of Iron Man ($27.1m/£17.4m) and Captain America: The Winter Soldier ($29.7m/£19.1m).
UNIVERSAL
They may not be top of the chart, but Universal has still set another record as it became the first distributor to have four films hit £30m in a calendar year.
The feat was achieved as animated spin-off Minions continued its superb run with a $4.2m (£2.7m) fourth weekend for a terrific $50.3m (£32.3m) to date. It's still tracking ahead of Despicable Me 2 ($46.6m/£30m at same stage), so don't rule out Minions threatening £50m just yet.
Also for Universal, Ted 2 followed up its somewhat soft opening with $2.1m (£1.4m) for $11m (£7m) after 12 days in play, and is still to match the $14.5m (£9.3m) opening five days of Ted.
Jurassic World will soon become the first film since Skyfall to hit the £60m mark in the UK. The triumphant dinosaur return added $1.8m (£1.13m) for $92.6m (£59.5m) to date, meaning it could be the ninth biggest film of all time by the end of next weekend if it overtakes LOTR: The Return of the King's $94.7m (£60.88m).
CINEMALIVE
André Rieu's 2015 Maastricht Concert again broke records for CinemaLive on Saturday [July 18] with a $1.6m (£1.02m) haul [see separate story here].
PARAMOUNT
Now in its third week, Paramount's Terminator Genisys shot to a further $1.3m (£822,000) for $14.4m (£9.24m) to date. It still has a chance of catching Terminator Salvation's $22.2m (£14.2m) UK result.
WARNER BROS
Holding well in its third weekend, Warner Bros' Magic Mike XXL gyrated to an extra $816,000 (£524,195) for $8.6m (£5.5m) to date. It will likely fall short of Magic Mike's $13.1m (£8.4m) tally, barring a late surge.
Also for Warner Bros, The Gallows failed to bring the chills at the UK box office, mustering up $523,000 (£335,923) from its 315 sites.
In terms of recent found footage horrors in the UK, it debuted ahead of The Pyramid ($296,000/£190,049 from 251), but behind As Above, So Below ($621,000/£398,693 from 337).
ALTITUDE FILM DISTRIBUTION
Falling just 24%, Altitude Film Distribution's Amy added $492,000 (£315,421) from its 279 sites for an excellent $3.2m (£2.06m) to date.
That makes Asif Kapadia's documentary the ninth biggest documentary of all time, and the fifth biggest non-concert documentary ever.
FOX
Secret Cinema's production of The Empire Strikes Back grossed $472,000 (£303,625) in the seventh week of its run and has now taken $4m (£2.6m).
Also for Fox, True Story uncovered $213,000 (£136,779) from its 147 sites on debut and will hope to have healthier midweek returns, while Spy edged closer to £10m as a $98,000 (£62,705) weekend saw it reach $15.4m (£9.88m).
ENTERTAINMENT
Marking one of the lowest openings for director Tarsem Singh, Entertainment's Self/less could only manage a $335,000 (£214,988) debut from its 270 sites.
That's only ahead of The Fall which received a limited release, taking $36,000 (£22,849) from just eight sites on its UK bow.
SONY
Following its disappointing opening, Sony's Love & Mercy added $87,000 (£56,088) for a ten-day tally of $433,000 (£278,387).
CURZON FILM WORLD
Sebastião Salgado documentary The Salt of the Earth recorded a UK bow of $86,000 (£55,632), including $29,000 (£18,745) in previews, from its 26 sites through Curzon Film World.
STUDIOCANAL
Falling around 50% in its second weekend, StudioCanal's Song of the Sea took a non-final $56,000 (£36,060) from its 109 sites for $255,000 (£163,849) to date.
Also for StudioCanal, 13 Minutes posted an opening of $20,000 (£12,572) from its 17 sites, marking director Oliver Hirschbiegel's lowest-ever UK debut but it's worth noting that it received his smallest release, site-wise.
SODA PICTURES
Cannes 2014 Grand Prix winner The Wonders grossed $11,000 (£6,900) from its 11 sites on its UK debut through Soda Pictures.
UPCOMING RELEASES
This week sees a saturation release for Disney's Inside Out, while Metrodome's Eden, Entertainment's Southpaw, Vertigo's Maggie and Icon's Edinburgh opener The Legend of Barney Thomson all receive wide releases.