Ant-Man crossed $1m, while Mountains May Depart debuted as Jia Zhangke's biggest hit.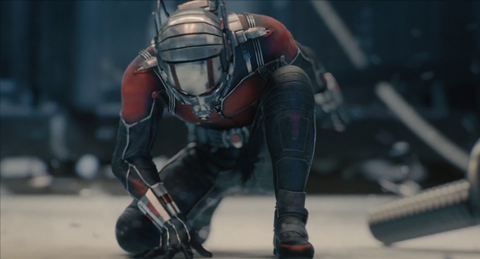 Disney/Marvel's Ant-Man stayed top for the second consecutive week with $19.45m. Its local cume of $101.47m after 17 days has overtaken last year's Marvel blockbuster Guardians of the Galaxy.
Chinese auteur Jia Zhangke's Cannes competition film Mountains May Depart debuted at eight place with $2.65m in its first three days. With $2.77m including previews, it has become his biggest film, even more than the combined box office of all his previously released films in China. It also marked his first release in nine years as his last film The Touch of Sinwas not cleared for release in his home country.
The Witness, the Chinese remake of 2011 Korean film Blind, opened at second place with $19.00m over its three-day opening weekend for $19.07m including previews. Tiny Times actress Mini Yang and 20 Once Again actor and former South Korean-Chinese boy band EXO member Luhan lend their star power to the new crime thriller about a blind woman and a delivery boy who are witnesses to a hit-and-run case. It is directed by the same director of the original film, Anh Sang-hoon.
Another new entry to the weekly chart was Sony's Hotel Transylvania 2 which came in third with $12.25m. The family hit is already ahead of the total gross of its predecessor after six days.
Local megahit Goodbye Mr Loser held well in fourth place with $11.12m in its extended run and lifted its cume to $223.08m after 33 days; followed by Japanese animation hit Detective Conan: Sunflowers Of Inferno which added $3.39m from $12.46m after 10 days.
European animation The Little Prince dropped to sixth with $2.75m for $23.95m after 17 days; followed by local teenage drama Youth Never Returns which earned $2.67m for $7.62m after 10 days.
Joe Wright's Pan dropped to ninth place with $0.96m for $4.42m after 11 days. New local horror thriller Midnight Whisper rounded up the weekly chart with $0.81m in its first three days.
November is set to be a crowded month. During the first week, Everest, which opens today is up against Maze Runner: The Scorch Trials (November 4 opening) and Snoopy: The Peanuts Movie (a day-date November 6 release simultaneous with North America). Two local love comedy dramas, The Last Women Standing starring Shu Qi and Eddie Peng and Ex-Files 2, are also due to open on November 6.