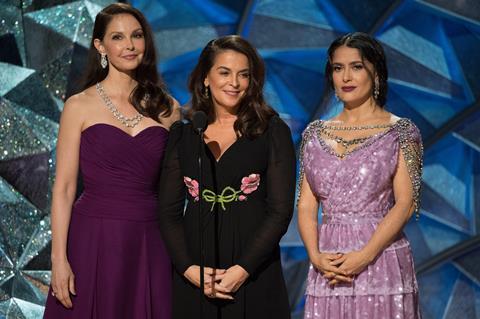 Ashley Judd, one of the first women to come forward late last year alleging sexual harassment by Harvey Weinstein, is suing the disgraced former mogul and claims he sabotaged her career.
Judd, pictured with Annabella Sciorra and Salma Hayek (who have also alleged sexual impropriety by Weinstein) at an appearance at the recent Oscars ceremony, tweeted about the legal action on Monday (April 30).
She has filed papers in the Los Angeles County Superior Court requesting jury trial as she seeks damages for sexual harassment, defamation, and intentional interference with prospective economic advantage – legalese for saying Weinstein sabotaged her career.
The papers claim Weinstein was a "headwind limiting her career" and give an example of how he allegedly made false and malicious statements to Peter Jackson and producing partner Fran Walsh when they approached him about hiring Judd to play what would have been a lucrative role in their Lord Of The Rings trilogy.
Jackson and Walsh had spoken to Judd about one of two roles in or around 1998 and approached Weinstein's Miramax about this as the company owned the rights to the property. Weinstein, the papers claim, told them Judd was a "nightmare" who should be avoided "at all costs."
Judd argues Weinstein was acting punitively after she had resisted his earlier advances.
A Weinstein spokesperson issued a statement that read, "The most basic investigation of the facts will reveal that Mr. Weinstein neither defamed Ms. Judd nor ever interfered with Ms. Judd's career, and instead not only championed her work but also repeatedly approved her casting for two of his movies over the next decade. The actual facts will show that Mr. Weinstein was widely known for having fought for Ms. Judd as his first choice for the lead role inGood Will Hunting and, in fact, arranged for Ms. Judd to fly to New York to be considered for the role. Thereafter, Ms. Judd was hired for not one, but two of Mr. Weinstein's movies, 'Frida' in 2002 and 'Crossing Over' with Harrison Ford in 2009. We look forward to a vigorous defense of these claims."
Weinstein denies any allegations of non-consensual sex.