Spectre and Fog In August among projects to tap into incentive.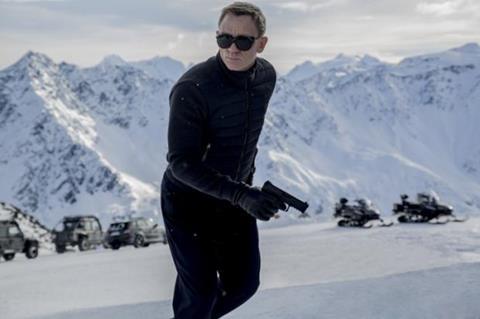 Entry criteria for national and international projects wanting to access Austria's film incentive programme known as FISA (Film Location Austria) have been tightened.
The minimum budget threshold for national or international feature film projects has been raised from the previous $1.09m (€1m) to $2.5m (€2.3m), while applications for the automatic support will now only be accepted from documentaries with budgets of $381,000 (€350,000) and above (previously, $218,000/€200,000).
In addition, FISA's non-repayable grant will now amount to 20% of the production costs eligible for support (the so-called "Austrian spend"), down from the previous 25%. Meanwhile, service productions will be able to apply for a grant of up to 25% of the local spend.
In case of 'service productions', the guidelines specify minimum budgets of $8.7m (€8m) for feature films and $1.09m (€1m) for documentaries, and a minimum €1m eligible spend in Austria.
While there is concern that the tightening of the FISA guidelines might now lead some Austrian producers to turn to other funding bodies such as the Austrian Film Institute to fill the gaps in their financing, there is also a realisation that changes had to be made as the incentive scheme had increasingly become a victim of its own success with most of its $8.2m (€7.5m) annual budget already committed to qualifying projects at the beginning of the year.
A total of 29 national and international productions – including the latest James Bond blockbuster Spectre, Kai Wessel's Fog In August and Virgil Widrich's The Night of a Thousand Hours – received support from the FISA scheme last year, generating an "Austrian spend" of $44.8m (€41.1m).
Filmhaus' service production of Sam Mendes' Spectre, for example, accessed $872,000 (€800,000), while Amour Fou Vienna received $709,000 (€650,000) for Widrich's latest feature and Dor Film $191,000 (€175,000) for its co-production of the euthanasia drama Fog In August with Munich-based Collina Film and Studiocanal's German production arm.
A total of 137 projects have benefitted from the incentive scheme since its introduction in September 2010.
The incentive's importance for the local Austrian film industry is also shown by the fact that 13 of the 19 films nominated for last night's Austrian Film Awards were made with support from FISA – ranging from this year's big winner, Veronika Franz and Severin Fiala's horror film Goodnight Mommy (with five prizes from six nominations, including Best Film) through Elisabeth Scharang's Jack (Best Actor and Best Sound Design) to Michael Sturminger's Casanova Variations (Best Costume Design and Best Editing).