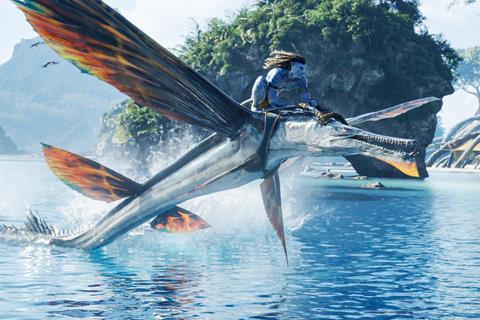 After 15 days in release Avatar: The Way Of Water reached $1.1bn at the global box office on Wednesday following a $70.4m haul.
The Disney/Lightstorm tentpole added $50m from international markets to propel the running total to $726.8m and was expected to overtake Top Gun: Maverick's $770m on Thursday to become the highest grossing international release of 2022 and the second highest Hollywood international release of the pandemic era behind Spider-Man: No Way Home on $1.1bn.
James Cameron's action fantasy sequel to his 2009 behemoth – Avatar remains the highest grossing global release in unadjusted terms on $2.92bn – brought in a further $20.4m in North America on Wednesday to boost the tally to $337.8m. Box office has been impacted significantly by the fierce winter storms across parts of the US and Canada.
By territory, the international leader remains China on $111.8m, followed by France on $74.9m, South Korea on $59.5m, India on $42.4m, and the UK on $41.3m.
Mexico has produced $31.2m, Australia $27.4m, Italy $25.6m, Spain $22.6m, Brazil $20.5m, and Indonesia $13.6m.