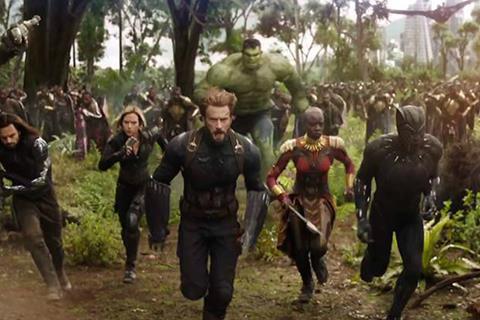 Marvel Studio's anticipated Avengers: Infinity War grossed an estimated $39m from opening day Wednesday in its first 21 territories.
The tentpole opened at number one everywhere. Among the highlights were the second highest opening day in industry history in Australia on $6.7m, and the highest opening day of all time in South Korea on $6.5m.
France delivered the highest opening day in April on $3.9m, Italy the third highest industry opening day as well as new all-time records for Disney and superhero films on $3.9m.
Walt Disney Studios Motion Pictures International executives reported Avengers: Infinity War scored all-time industry opening day marks in the Philippines on $2.7m, Thailand on $1.8m, Indonesia on $1.8m, Malaysia on $1.5m, Hong Kong on $1.4m, and Vietnam on $1.3m.
Taiwan delivered the second highest Wednesday opening day on $1.8m.
New Zealand and the Netherlands generated the second highest industry opening days, while there were record debuts for a superhero film in Denmark, Finland, Norway, Portugal and Sweden.
Avengers: Infinity War opens on Thursday in Germany, the UK and Brazil, Austria, Croatia, Czech Rep, Greece, Hungary, Israel, Lebanon, Poland, Slovakia, Slovenia, Ukraine, Argentina, Panama, Uruguay, Paraguay, Peru, Bolivia, Chile and Colombia.