EXCLUSIVE: The 30th anniversary trailer for the Back To The Future trilogy re-release.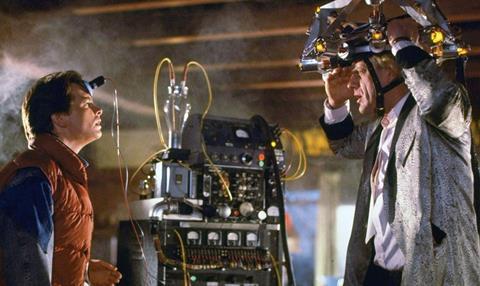 Screen has an exclusive first look at the trailer for the upcoming theatrical re-release of Universal Pictures' Back To The Future trilogy.
Starring Michael J. Fox as Marty McFly and Christopher Lloyd as Dr. Emmett "Doc" Brown, the first installment of Robert Zemeckis' classic trilogy was first shown in cinemas 30 years ago.
Taking place as a one-day event on October 21 2015 [the same day Fox's character travels forward to in the second Back To The Future film], the release will see the films screened worldwide.
Park Circus have teamed with Universal Pictures to show the film in Latin America, Japan and New Zealand, as well as a host of territories in Europe: Belgium, Croatia, Czech Republic, Denmark, Hungary, Netherlands, Norway, Portugal, Spain and Sweden. Universal is handling the release in the UK, Germany, Austria, Switzerland, France and Australia.
Back To The Future was notable for its vision of the year 2015. Some of its predictions (wearable technology, video calling) turned out to be more presicent that others (flying cars).
The one-off event is likely to prove another boost to what has already been a record-breaking year for Universal.