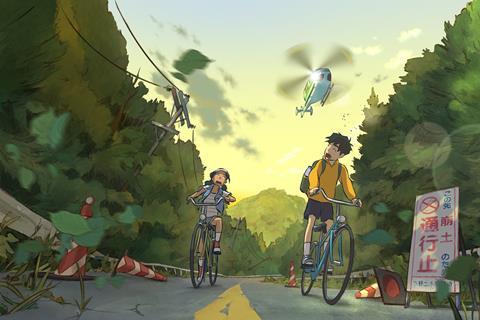 The 25th edition of Cartoon Movie wrapped on March 9 in Bordeaux, returning to pre-pandemic levels of attendance - in spite of a French general strike.
The pitching and co-production forum for animated feature films registered 876 attendees, including 282 buyers from 35 different countries. 58 animated features were presented.
The pitching sessions that registered the highest attendance from buyers this year were: Back To Tomioka, lead-produced by France's Foliascope­; Julián, a co-production led by Ireland's Cartoon Saloon; and Ninn by France's TeamTo.
Children's animation Back To Tomioka follows the lives of two orphans living with their grandmother in a refugee camp, two years after the Fukushima nuclear disaster in Japan.
Julián focuses on a child living with his grandma in a colourful Brooklyn neighbourhood, and tackles issues such as identity, gender expression and family heritage.
Aimed at family audiences, Ninn centres on a young girl who was abandoned at the metro when she was a baby and who, consequently, has a lot of questions about her background that she cannot answer.
Other projects that also attracted high levels of buyer interest included Denmark-Sweden co-production Yap Yap - The Secret Forest, France's Merry Christmas Monsieur Hulot and Germany's Moses the Pirate.
Prize winners
Awards were presented to producer, director, and distributor or sales agent of the year.
The producers of No Dogs Or Italians Allowed were named producer of the year; Mascha Halberstad was voted director of the year for OINK; and France's KMBO was named distributor of the year.
No Dogs Or Italians Allowed is a co-production between five European countries - France's Les Films du Tambour de Soie, Vivement Lundi! and Foliascope, Italy's Graffiti Film, Switzerland's Nadasdy Film, Portugal's Ocidental Filmes, and Belgium's Lux Fugit Film. Directed by Alain Ughetto, the stop-motion film took the jury prize at Annecy in June 2022, and won the prrze for best animaion film at the European Film Awards later that year.
An illustrator and filmmaker, Halberstad won the director prize for her debut Oink, which premiered at the 2022 Berlinale as the opening film of the Generation K+ section. The Dutch director presented her next film at Cartoon Movie: Fox And Hare Save The Forest, based on the books of Flemish auteur Sylvia Vanden Heede.
Based in Paris, KMBO is a film distribution company run by Vladimir Kokh whose catalogue includes films such as Ali Samadi Ahadi's Moonbound and Toby Genkel's The Amazing Maurice. The company also distributes live-action films.
The €20,000 Eurimages co-production development award went to Roberto Saviano's I'm Still Alive, a recreation of the Italian auteur's life told in the first person. Saviano lives under police protection and could not attend the event in Bordeaux so sent an emotive message that won applause during the project's pitch. It is produced by Italy's Mad Entertainment.
Climate, social issues
According to Cartoon Movie, 16% of the projects presented at the event addressed concerns about climate change. They included Forest, Back to Tomioka and Four Souls Of Coyote.
Another 21% of the titles tackled social issues such as inclusion, diversity, migration, or gender, including Julian, The Legend Of Magnus The Good and I'm Still Alive.
Projects presenting women as main characters or heroines formed a substantial part of the Cartoon Movie line-up. They included The Legend Of Lune, Clarissa, Fiammetta and Rosa And The Stone Troll.
Cartoon Movie director Annick Maes summarised the achievements of Cartoon Movie on its 25th anniversary. Since its creation in 1999, 447 films have found financing, representing a total budget of €2.92 billion.
Europe's foremost event devoted to animated films, Cartoon Movie is part of a broader network of platforms including Cartoon Forum, which is dedicated to TV shows, student incubator programme Cartoon Springboard, and Cartoon Business and Cartoon Next, devoted to the future of animation and digital content.
Cartoon Next will be the next event to be held in Marseille from April 18-20.