Universal's comedy scores mighty $14.2m (£8.42m) debut, including previews; StudioCanal's The Wind Rises posts second-best UK bow for Studio Ghibli.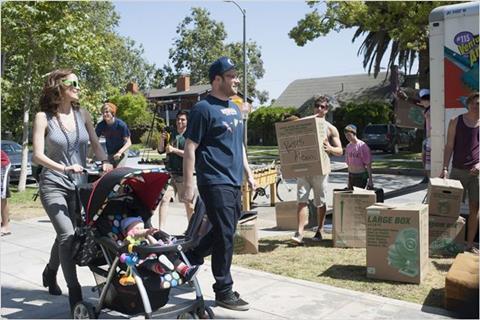 Given that its previews alone would have seen it top last weekend's chart, it was only a question of how big Bad Neighbours will be on its chart-topping UK debut.
The answer? Universal's comedy scored a mighty $14.2m (£8.42m) opening with a $10,909 (£6,456) site average, including $8.7m (£5.15m) in previews. It's worth noting that its Fri-Sun result of $5.6m (£3.3m) would have also seen it comfortably dethrone The Amazing Spider-Man 2.
Unsurprisingly, that marks director Nicholas Stoller's best-ever UK bow but more impressively, it's already Stoller's best-ever UK performer, topping Forgetting Sarah Marshall's $13m (£7.7m) result.
The arrival of Godzilla will likely prevent Bad Neighbours from a second consecutive week at number one, but it could prove potent counter-programming by Universal over the coming weeks.
SONY
Despite being prevented from a fourth straight week as the UK's number one, The Amazing Spider-Man 2 held well to earn an additional $2.2m (£1.3m) from its 488 sites.
Sony's superhero sequel has now swung to $37.6m (£22.3m) in the UK, narrowing the gap on its predecessor which stood at $40.2m (£23.8m) at the same stage in its run on the way to $43.9m (£26m).
FOX
As expected, The Other Woman is now director Nick Cassavetes' best-ever UK performer, surpassing My Sister's Keeper's $10.6m (£6.3m) UK haul. Fox's comedy fell 36% in its third weekend to take $1.6m (£927,910) for a strong $12m (£7.1m) to date and stands an outside chance of hitting £10m.
Also for Fox, Rio 2 boosted 24% in its sixth weekend to fly to an extra $931,000 (£550,909) for $22.4m (£13.3m), meaning it'll shortly overtake its predecessor's $22.9m (£13.56m) tally.
EONE
Rounding off this week's top five with a 42% drop was eOne's Pompeii with $846,000 (£505,000) for $3.7m (£2.23m) to date.
With a drop of just 17% (excluding previews), Tarzan swung to a further $737,000 (£440,000) for $2.7m (£1.61m), while Calvary added $194,000 (£116,000) to lift its UK tally to $4.5m (£2.66m).
Divergent and The Love Punch have amassed $11m (£6.6m) and $3.5m (£2.1m), respectively.
LIONSGATE
Shooting its way into 336 sites, Lionsgate's Sabotage posted a $507,000 (£300,521) UK debut, including $109,000 (£64,372) in previews.
That's some way short of director David Ayer's best-ever UK bow, Street Kings' $1m (£619,647) from 353 sites, and is down on Arnold Schwarzenegger's last UK outing, Escape Plan, which broke out with $1.6m (£961,262) from 362 sites.
DISNEY
Falling a respectable 31% in its seventh weekend, Captain America: The Winter Soldier fought its way to a further $417,000 (£247,000) for $32.3m (£19.1m) to date through Disney.
Also for Disney, Muppets Most Wanted dropped just 8% to add $199,000 (£118,000) for $12.3m (£7.3m) after seven weeks in play.
CURZON FILM WORLD
Performing in 146 screens through Curzon Film World, Frank opened to a solid $338,000 (£200,298) at a $2,305 (£1,367) average.
The debut marks director Lenny Abrahamson's best-ever UK bow, but it's also his widest debut by some distance. What Richard Did opened in 22 Irish sites for $78,000 (£46,170) ahead of a UK release at nine sites for $48,000 (£28,351).
STUDIOCANAL
Enjoying the week's second strongest site average was StudioCanal's The Wind Rises with an excellent $317,000 (£187,835) UK bow from its 59 sites.
That marks Studio Ghibli's second-best UK opening, behind Howl's Moving Castle's $360,000 (£212,836) from 95 sites, with Hayao Miyazaki's reported directorial swansong also recording no drop between its Saturday and Sunday grosses.
Spirited Away is the best-ever UK performer for the legendary Japanese animation studio with $1.5m (£900,000), and The Wind Rises has a strong chance of challenging that if it holds well.
PARAMOUNT
Likely to cross £10m in the coming week, Paramount's Noah added $228,000 (£135,000) and has so far sailed to a healthy $16.6m (£9.85m) in the UK.
Also for Paramount, Plastic experienced a hefty drop in its second weekend to take just $24,000 (£14,000) for $397,000 (£235,000) to date.
WARNER BROS
Recording a similarly steep fall in its second weekend was Warner Bros' Brick Mansions, grossing $59,000 (£35,000) for $436,000 (£258,000) after ten days in play. It will just about overtake District 13's $452,000 (£267,380) UK result.
METRODOME
Philippe Claudel's Before the Winter Chill posted a $50,000 (£29.743) UK bow from its 22 sites through Metrodome. That's down on Claudel's previous UK release I've Loved You So Long, which landed with $198,000 (£116,990) from 29 sites in 2008.
ARTIFICIAL EYE
Continuing its excellent UK run, The Lunchbox tucked into a further $31,000 (£18,322) for $712,000 (£422,103) to date.
ICON FILM DISTRIBUTION
Marking Icon's return to UK cinemas, Next Goal Wins scored a UK opening of $29,000 (£17,145) from its 32 sites, including previews. Icon Film Distribution's first release of scale will be Jim Mickle's Cold in July on June 27.
DOGWOOF
Released on nine screens through Dogwoof, Advanced Style posted a $23,000 (£13,784) UK debut.
UPCOMING RELEASES
This week's only saturation release comes in the form of Warner Bros' Godzilla (opens May 15), while Sony's In Secret receives a wide release.
StudioCanal's The Two Faces of January, Arrow Films' A Touch of Sin and Picturehouse's Concussion are among the films receiving a limited release.