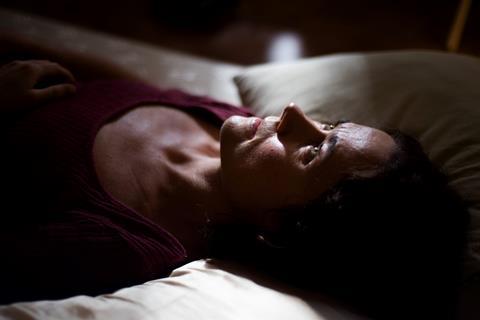 Bankside Films has boarded international sales to Swedish director Frida Kempff's feature debut Knocking.
The UK sales outfit will introduce the project and screen a promo to buyers at the Cannes virtual Marche, which runs June 22-26. It has also released a first-look image [see above].
Knocking is in post-production after shooting on location in Norrköping, Sweden and was written by Emma Broström, based on the novel by Johan Theorin.
Cecilia Milocco (Involuntary) stars as a woman who moves into a new apartment after a tragic accident and begins to hear a disturbing knocking, which sounds like a call for help or a message in Morse code. She confronts her neighbours as the knocking gets more intense but it becomes clear that no one else can hear it.
Kempff previously directed documentary Winter Buoy and shorts including Micky Bader, which won a Cannes jury prize in 2010.
Broström is a Swedish playwright with more than 45 theatrical productions to her name, whose screenwriting debut came in 2015 with Beata Gårdeler's Flocking, which won the Crystal Bear at the Berlinale.
The film is produced by Erik Andersson of Läsk, in collaboration with the Swedish Film Institute and Svergies Television through the initiative Moving Sweden with support from Norrköpings Filmfond. Executive producer is Federico Ambrosini.
Bankside will handle international sales, while the Swedish Film Institute will handle international festival distribution.
Stephen Kelliher of Bankside Films said Kempff "explores highly modern themes of grief and gaslighting through the lens of an intense psychological thriller which she executes with striking cinematic style".
"Molly's story is emotionally charged but Kempff's unsettling approach will leave audiences thrilled in equal measure," he added.
Kempff is also developing The Swedish Torpedo, about one woman's ambition to swim the English Channel that was at Torino's ScriptLab in 2019, and The Unit through her production company Läsk.
Other upcoming titles on Bankside's Cannes slate include Stacey Gregg's feature debut, Here Before, starring Andrea Riseborough, and Juan Diego Botto's On The Fringe, starring Penelope Cruz.