Alexander Mihalkovich and Hanna Badziaka's Motherland, about the brutal military culture in Belarus, has won the main Dox:Award prize at CPH:DOX 2023.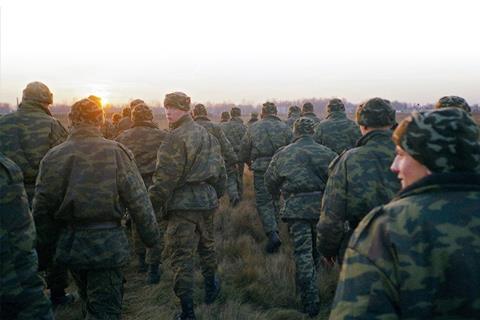 The Sweden-Ukraine-Norway co-production follows two storylines: a woman trying to shed light on the culture of violence and abuse in the Belarusian military after her son was found dead while in the army; and a group of young friends from the techno underground who face being drafted soon.
Scroll down for the full list of winners
The awards were handed out at a ceremony this evening (March 24) at the Kunsthal Charlottenborg in Copenhagen. With the event celebrating its 20th anniversary, artistic director Niklas Engstrom started proceedings by bursting out of a giant cake; and later lead a rendition of 'Happy Birthday' to the festival.
For Motherland, the Dox:Award jury praised "a cinematic and meaningful film that took its time unfolding the complexity of living within an oppressive and unjust system. It poses questions about the idea of an individual choice within a cornered society." Lightdox acquired world sales rights on the film earlier this week.
A special mention went to Nicolas Peduzzi's French title On The Edge, about a Parisian doctor who fights to maintain his humanist spirit whilst working in a run-down hospital.
Steffi Niederzoll's German-French co-production Seven Winters In Tehran, about the trial and fate of Reyhaneh Jabbari, an Iranian woman who murdered a man who was trying to rape her, won the F:act award prize. The film, narrated by Holy Spider actress Zar Amir Ebrahimi, previously won the Perspektive Deutches Kino prize at the Berlinale, where it debuted in February.
"From the visual language to editing style, we are impressed by the filmmaker's creative vision and ability to execute," noted the jury. "It is emotional but never sensational. It tells a tragic story yet allows us to witness the warmth and resilience of human nature. It not only shows the courage of individuals standing up against systemic abuse and violence but also reminds us that even deaths can't defeat one's will to fight."
The Nordic:Dox award went to Jella Bethmann's Danish documentary Mrs. Hansen & The Bad Companions, about an 80-year-old woman who runs a home for society's outsiders, who must care for her when she falls ill.
Further prizes included the New:Vision award to Bo Wang's An Asian Ghost Story; the Next:Wave award to Agniia Galdanova's Queendom; and the Politiken:Dox award to Lea Glob's Apolonia, Apolonia.
The CPH:Forum industry awards were handed out yesterday (March 25), with Iryna Tsilyk's Ukrainian project Red Zone taking a special co-production development award.
CPH:DOX closes on March 26; with the winning films then shown in Copenhagen cinemas on March 27 and 28.
CPH:DOX 2023 winners
Dox Award – Motherland (Swe-Ukr-Nor) dirs. Alexander Mihalkovich, Hanna Badziaka
Special Mention – On The Edge (Fr) dir. Nicolas Peduzzi
F:act award – Seven Winters In Tehran (Ger-Fr) dir. Steffi Niederzoll
Special mention – The Hostage Takers (Den) dirs. Puk Damsgaard, Soren Klovborg
Nordic:Dox award – Mrs. Hansen & The Bad Companions (Den) dir. Jella Bethmann
Special mention – Lynx Man (Fin) dir. Juha Suonpaa
New:Vision award – An Asian Ghost Story (Neth-HK) dir. Bo Wang
Special mention – The Secret Garden (Leb) dir. Nour Ouayda
Special mention – Pacific Club (Fr-Qat) dir. Valentin Noujaim
Next:Wave award – Queendom (US-Fr) dir. Agniia Galdanova
Special mention – The Last Year Of Darkness (China-US) dir. Benjamin Mullinkosson
Politiken:Dox award – Apolonia, Apolonia (Den) dir. Lea Glob
Special mention – The Mountains (Den) dir. Christian Einshoj