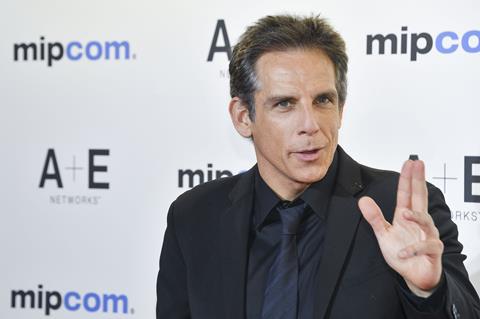 US actor and director Ben Stiller touched down at MIPCOM on Monday evening (Oct 15) to unveil the first episode of his upcoming drama series Escape At Dannemora on the big screen in Cannes Palais des Festivals.
"This is sort of a dream for me to see that on a big screen because we always thought of it pretty cinematically so it's exciting to see it that size," said Stiller, who takes executive producer and director credits on the series, produced by Showtime and handled internationally by CBS Studios International.
Based on the real-life jailbreak by two prisoners from one of America's largest maximum security prisons in Upstate New York in 2015, the series stars Benicio Del Toro and Paul Dano as convicts Richard Matt and David Sweat alongside Patricia Arquette as Tilly Mitchell, a female prison employee who got involved with both men and helped them escape.
Stiller said he had been attracted to the project by the stranger-than-fiction aspect of the story.
"The story itself was hard to believe. I was attracted to the reality of how something like this actually happens. When I heard that two guys had escaped and cut their way out of prison and this woman who worked at the prison was smuggling in hack-saw blades, it sounded made-up. But it really happened and ended up being the biggest man-hunts in New York State history," he said.
He revealed, however, that he had originally turned down the project when writers and executive producers Brett Johnson (Mad Men) and Michael Tolkin (The Player), first approached him with a script just months after the escape happened.
"It was really well written and I asked them how much of it was true and they said, 'Well we made up a lot of it' and I was like ok. I had to figure out if I could make that version and I figured I couldn't because I didn't have a take on it… I didn't just want to make-up an escape story, what was interesting to me was the real-life escape story so I passed on it."
Stiller reconnected with the writers a few months later following the release of detailed report on the escape by state inspector general Catherine Leahy Scott, played by Bonnie Hunt in the series, which he said read almost like "a novel".
"We all called each other up immediately because we were so excited to read it. I said if you don't have a director, still, maybe we should start from scratch using this report as our source material and just try to do everything from the real source material as much as possible, then we started reading all the transcripts and going up to Dannemora."
Casting
Stiller revealed that Arquette had been the first star to board the project but that Del Toro had been harder to reel in for his role, his first in a high-end drama series.
"It took a little bit of time to get him. He had never done television before. He was intrigued by the project and I met with him a number of times and we talked about. He is also an artist and I think he was really interested in that aspect of Richard Matt's character," said Stiller, referring to the fact that Matt had also been a talented painter.
"At that point, Patricia was on board. She was always the first choice for me just because she is such an amazing actor in that she has no sense of wanting the audience to like her character… She was on board and Benicio wanted to work with her and after a number of meetings he decided to dive in."
Episode one, which previewed on Monday evening, focused on presenting the characters and building the web of interaction between the prisoners and the prison guards, on all levels.
"If I was going to make something in this genre on prison escape which has been done so many times, it was how to approach it from the point of view of how something would really happen and that involved setting up the relationships and the prison eco-system and how everyone interacts in this world and how the prison dominates that town," he said.
Stiller said it would have been difficult to do justice to the story in a feature-length film format.
"There is certainly a [feature] version of it, but it would not be as interesting because it would be pretty reductive. You wouldn't be able to tell the stories of all the characters … we have a chance to lay out the world.
"A lot of time in these prison escape stories you can't help wanting to identify with the protagonists and I knew that was going to happen in this. Brett Johnson and Michael Tolkin, the writers, and I really thought about that and really wanted to have a chance to show who they were as people… you would not be able to do that in a two-hour movie."