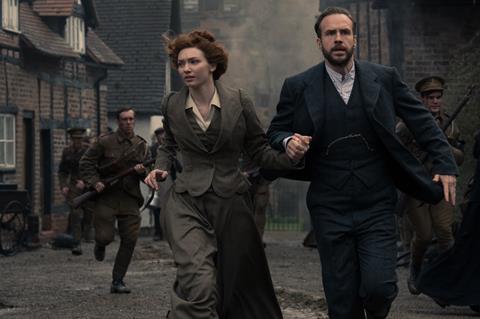 ITV Studios Global Entertainment (ITVS GE) has unveiled a slew of pre-sales for its upcoming big-budget drama The War Of The Worlds as the Mipcom content market kicks off in Cannes.
A Mammoth Screen production for the BBC, co-produced with Creasun Media in association with Red Square, the series is based on an adaptation of H.G. Wells' 1897 science-fiction classic by Peter Harness, whose credits include Wallander and Jonathan Strange and Mr Norrell.
ITVS GE said it had achieved pre-sale deals covering more than 80 territories, including to France (TF1), Spain (Moviestar+), Italy (LaF via Sky Italy), Russia (Channel 1), Iceland (RUV), Finland (YLE) across the CEE via Epic Drama.
It has also been picked up by Foxtel in Australia, TVNZ in New Zealand and Blue Ant Media in Canada, while a deal in Africa with M-Net, means the show will be available in over 50 countries across the continent.
"The War Of The Worlds is an internationally recognised story and this is the first British television adaptation of H.G Wells' classic tale. It is an incredible and truly ground-breaking production full of mood and atmosphere, which is bringing to life some of literature's most notorious foes," said Ruth Berry, managing director, ITV Studios Global Entertainment.
Wells' classic work is set against the backdrop of the aftermath of a meteor strike on England, followed by a vicious alien invasion.
This new adaptation follows young couple George (Rafe Spall) and his partner Amy (Eleanor Tomlinson) as they attempt to defy society and start a life together and face the escalating terror of an alien invasion, fighting for their lives against an enemy beyond their comprehension.
The War Of The Worlds is directed by award-winning director Craig Viveiros and produced by Betsan Morris Evans (NW, The City and The City). The executive producers are Damien Timmer, Preethi Mavahalli, Peter Harness and Craig Viveiros for Mammoth Screen, part of ITV Studios, and Tommy Bulfin for the BBC. The Executive Producer for Creasun is Minglu Ma and for Red Square, Jamie Brown.