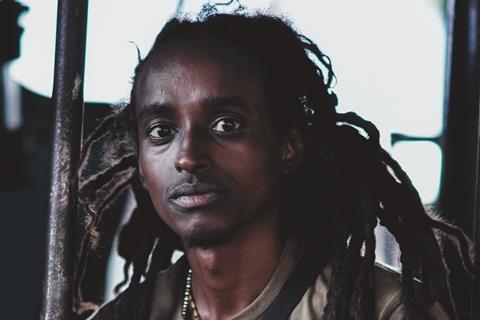 The Berlin Film Festival has joined growing calls from the international film community for the release of Sudanese filmmaker Hajooj Kuka who is currently being held alongside four other artists in a Khartoum jail.
"The Berlin International Film Festival joins the international protest against the arrest of Sudanese filmmaker Hajooj Kuka and four other artists. The group of artists has been randomly charged with causing a public nuisance. We call for their immediate release by the Sudanese authorities," the festival said in a statement.
The festival joins similar calls over the weekend from Toronto chiefs Cameron Bailey and Joana Vicente as well as the International Coalition for Filmmakers at Risk (ICFR) and its founding institutions, the European Film Academy, International Documentary Film Festival Amsterdam and International Film Festival Rotterdam.
Kuka and artists Abdelrahman Mohamed, Ayman Khalafallah, Ahmed El Sadig and Dua Tareg were sentenced to two months in prison and a fine of 5,000 Sudanese pounds ($90) on Thursday (September 18) for allegedly creating a "public disturbance".
According to local media reports, the charges against the artists were related to an incident which took place in early August during a rehearsal for an upcoming show by the Khartoum-based Feed Arts group, after neighbours complained about the noise and called the police.
When police attended the scene, one of the officers took a photo of artist and human rights activist Dua Tareg, who objected. When she complained, the officer allegedly slapped her, which prompted the other members of the group to protest.
This in turn led to all 11 members of the group being detained. The other six members of the group are still awaiting sentencing.
The prison sentences for the artists have surprised the local creative community as it recalls the draconian regime of long-time authoritarian leader Omar al-Bashir, who was deposed in April 2019.
Kuka is the best known of the group internationally. His debut feature Beats Of The Antonov won Toronto's people's choice award for best documentary in 2014, while his first fiction film aKasha, an off-beat romantic comedy drama set against the backdrop of Sudan's civil war, premiered in Venice Critics' Week in 2018. He was invited to become a member of AMPAS in June of this year.
Alongside filmmaking, Kuka also teaches drama and filmmaking to young artists in Khartoum and is the co-founder of the Refugee Club, an alliance of Sudanese artists whose work reflects an awareness of the transitory state of migration.