Von Trier maintains silence at Nymphomaniac photocall; Shia LaBeouf walks out.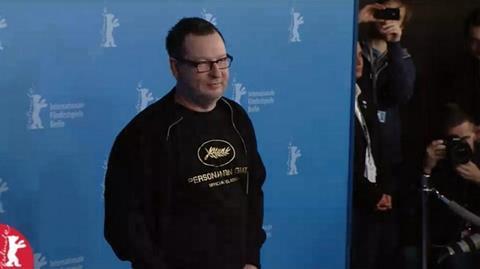 The photocall and press conference for Lars Von Trier's Nymphomaniac: Volume 1 was a suitably dramatic affair today at the Berlin International Film Festival as maverick director Von Trier flashed a t-shirt stamped with the Cannes palme and the words "Persona Non Grata, Official Selection" while actor Shia La Beouf later walked out of the press conference.
Von Trier maintained the silence he has held since his controversial comments in Cannes in 2011 and didn't join actors Uma Thurman, Christian Slater, Stellan Skarsgard, Stacy Martin and producer Louis Vesth on stage for the packed conference - but proudly revealed his t-shirt during the photocall.
LaBeouf walkout
Actor Shia LaBeouf, chewing gum and sporting baseball cap, hoodie and pronounced five o'clock shadow, looked uncomfortable and glum throughout proceedings and only spoke to issue French footballer Eric Cantona's famous quote: "When the seagulls follow the trawler, it is because they think sardines will be thrown into the sea."
The Transformers star then got up and walked out, leaving a rather embarrassed lineup of actors on stage and a stunned audience.
Manchester United footballer Cantona first issued the phrase at an infamous 1995 press conference after a court appearance following his assault on a football fan.
The cryptic quote was understood to be the Frenchman's assessment of the media pack following him around on the hunt for a story.
On Saturday night, LaBeouf is understood to have been engaged in an altercation at the Ritz-Carlton hotel in Berlin. Last year the troubled actor was embroiled in a plagiarism row and also announced his retirement from public life.
Uma: best days of my life
Von Trier's buzzed-about two-part drama follows a self-diagnosed nymphomaniac who recounts her erotic experiences to the man who saved her after a beating.
Uma Thurman described working with Von Trier on the controversial film as "the best days of my life".
Christian Slater described the director as "patient and gentle".
Asked whether she thought audiences would want to see a film about nymphomania, first-time actor Martin said: "Yes. Lars creates debate. This is what he does. Our sexuality is who we are. Why deny it?"
Return to Cannes?
One audience member asked whether Von Trier would be able to continue to make the films he wanted to going forward.
Producer Vesth responded: "Lars has been able to make the films he wants to until now so let's hope that continues.
"This film's topic has been difficult because sex is more difficult [for the public] than violence but until now we've been able to make the films we want to and thank god for that."
Vesth also said she didn't know whether the second part of Von Trier's film would play in Cannes.
Actress and Von Trier muse Charlotte Gainsbourg was unable to attend the conference.
For our critic's response to the longer film, click here.