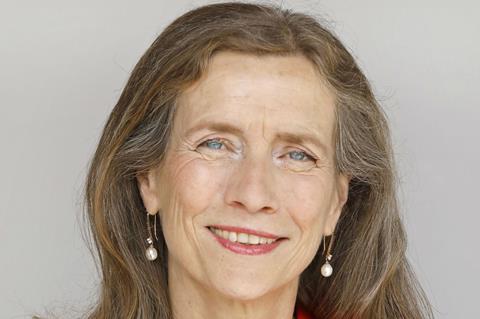 Mariette Rissenbeek, managing director of German Films and newly appointed co-head of the Berlinale, has been attending the Jerusalem Film Festival (JFF) this week as part of a high-powered German film industry delegation.
Rissenbeek herself has just stepped up in the ranks of power players in the country, having been announced in June as the new co-head of the Berlinale alongside Locarno Film Festival artistic director Carlo Chatrian. The pair have been appointed executive director and artistic director respectively, and will assume their posts after Dieter Kosslick's final edition in 2019.
The appointment makes Rissenbeek the first woman to lead the Berlinale, and the German Films chief was also part of the three-strong selection committee that first appointed Chatrian, alongside Germany's culture minister Monika Grutters and Bjorn Bohning, former Berlin senate chancellery chief representing the city of Berlin.
"I came on board when we were particularly trying to find people from outside of Germany for the artistic director job," says Rissenbeek, who is Dutch but has been living in Germany since 1980. "I think because I suggested a lot of names, the minister at some point realised I know the international festival landscape quite well. We first had Carlo and then we started looking who could do it together with him because he very definitely didn't want to do more than the artistic directing. He didn't want to do the budget or the personnel management or sponsorship, anything like that."
"When Carlo accepted," she continues, "we already had a number of women who could do the other part because we were very sure we wanted to have one man and one woman at the top."
Rissenbeek says that what happened next was a discussion between Grutters and Bohning without her present, in which they proposed that she put herself forward as a candidate. After the ministry investigated the potential conflict of interest question and decided it wasn't an issue so long as the process was dealt with openly, Rissenbeek stepped back from her position on the selection committee and the formal application process kicked into action.
"When the minister suggested it to me, I really had to think it over," says Rissenbeek. "The Berlinale is such a big festival and I had never thought of myself at all for such a big job. If it hadn't been with an artistic director like Carlo, who has such a deep knowledge of film, of cinema, of filmmakers, I would never have considered even accepting."
Rissenbeek's managerial abilities combined with her long and deep connections to the German film industry were the keys to her appointment, and in her announcement Grutters praised the new Berlinale team as one that would make the festival "younger, more international and open to experimentation".
Industry reaction
There were questions how the German film industry would react to Chatrian's appointment, given he's not a German national (nor is the Dutch-born Rissenbeek although she has been with German Films since 2002 and before that worked in production and distribution in Germany). But Rissenbeek says the reaction from German filmmakers she has met with or spoken to have been positive.
"Because most of them know me as valuing their work and bringing their work out into the world, my impression is that they feel very happy about this combination," she says. "They know that I will not be pushing certain things too much because I believe in showing a wide variety of filmmakers."
Rissenbeek agrees the decision to appoint Chatrian was also a statement of intent about the kind of festival the Berlinale wants to be going forward. "When we spoke about, How do we see the successor of Dieter, the closer we got to the final stage, it was very clear that we felt the artistic director should be someone with a cineaste background, and also someone international."
The other two finalists were also male artistic directors at international festivals with strong curatorial and film-critic backgrounds, Rissenbeek confirms. "We felt adding a more international view on the festival would be a very good decision. The competition has always been very international but it might be the chance for the Berlinale to add something to the process. With a new team, there is always the chance to rethink the profile."
She and Chatrian haven't entirely figured out yet how they are going to divide tasks and responsibilities, but Rissenbeek says the artistic selection will reside with the current Locarno artistic director. "Carlo should have his artistic freedom in that sense but if he feels like he would need support with some things, I would be happy to be involved. But that would be his decision to either ask me or not ask me, and I wouldn't be offended if he's not asking."
They plan to meet with the main Berlinale programmers in the autumn together, "to be ready for the takeover in June 2019", and Rissenbeek suggests there could be some changes in store although nothing too radical. "It's too early to discuss any serious concept but it would be silly for us to say that we want a completely different kind of festival," says Rissenbeek, who will remain with German Films through the 2019 Berlinale to see through the third edition of the agency's Face to Face initiative before taking up her role officially in March 2019.
Jerusalem Film Festival
At JFF, Rissenbeek helped to organise a Germany-Israel roundtable gathering with the Israel Film Fund, which was attended by film fund executives, distributors, sales agents and producers from both countries.
For Rissenbeek, it's important to continue fostering the strong bonds that exist between the two industries, and accompanying her to Jerusalem were several German industry heavyweights including German Federal Film Board CEO Peter Dinges, Medienboard Berlin-Brandenburg managing director Kristen Niehaus, Hessen Film und Medien managing director Hans Joachim Mendig, Film und Medienstiftung NRW deputy head of film Helga Binder and Christoph Ott of NFP Marketing & Distribution. (The Match Factory managing director Michael Weber, at JFF this year as a member of the international competition jury, also attended the roundtable.)
"Especially as the whole situation in Israel is so difficult, it's very important to have different voices of Israeli filmmakers," says Rissenbeek. "A lot of Israeli films and filmmakers have bonds with Germany and I thought it was an excellent idea to look at what is happening between Germany and Israel, the kind of films that are made and how can we distribute them in other countries."
After Jerusalem, Rissenbeek's festival travel schedule will take in Locarno, Venice and Toronto to support the German films and filmmakers selected. In Locarno, Jan Bonny's Germany. A Winter's Tale is in competition and Sandra Nettelbeck's What Doesn't Kill Us will screen in Piazza Grande, while four German features have been programmed in Venice: Florian Henckel von Donnersmarck's Never Look Away in competition, Happy Lamento and Why Are We Creative? in Venice Days (both out of competition), and Adam & Evelyn in Critics Week, plus a further six feature co-productions including Carlos Reygadas' Our Time. Toronto is still announcing its line-up but Von Donnersmarck's film is widely tipped to be there.
"We've never had four German directors in Venice at the same time in the past 15 years," Rissenbeek comments. "It's a very strong year for us."
Looking to the future, Rissenbeek says that major festivals like Berlin will only become more important for supporting film culture as industry disruption continues to shake up the independent film world, and she looks forward to taking on that challenge.
"For some films, festivals are the main venue where people will still watch them and people are going with an interest to discover something new, and I think festivals have taken over this role much more strongly in the past 10 years. I think this role has to be taken more seriously. We have to use this platform and make sure that there is such a platform in the future. It will be very important to reach out to the younger audience. That for me is going to be a priority."