Maggie Gyllenhaal and Diego Luna amongst those to join jury president Paul Verhoeven.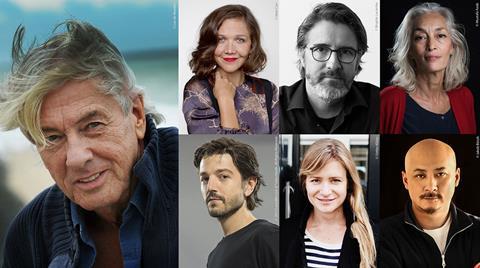 The 67th Berlin Film Festival has revealed its jury, homage subject and Golden Camera recipients.
Joining jury president, Paul Verhoeven, will be actors Maggie Gyllenhaal, Diego Luna, and Julia Jentsch, producer Dora Bouchoucha Fourati, artist Olafur Eliasson and director-screenwriter Wang Quan'an.
Eighteen films are vying in this year's competition for the Golden Bear. The winners will be announced at the Berlinale Palast on February 18.
Robocop director Verhoeven is currently flying high off the success of Golden Globe-winning drama Elle.
Gyllenhaal is best known for her Oscar-nominated role in Crazy Heart, breakthrough performances in Donnie Darko and Secretary, The Dark Knight and TV series The Honourable Woman, for which she garnered a Golden Globe Award and an Emmy nomination.
Luna, co-star of Alfonso Cuarón's Y Tu Mamá También, has played at the Berlinale in titles including Milk (dir: Gus van Sant, Berlinale Panorama 2009) and César Chávez (Berlinale Special 2014).
Jentsch is best known for The Edukators (2004, dir: Hans Weingartner) and Sophie Scholl - The Final Days (Berlinale Competition 2005), for which she won the Berlinale's Silver Bear.
Fourati's credits include Mohamed Ben Attia's Hedi, which screened in the Berlinale Competition in 2016 and won the Best First Feature Award and Silver Bear for Best Actor (Majd Mastoura), while Wang Quan'an is known for Berlin titles including Lunar Eclipse, Tuya's Marriage, Apart Together and White Deer Plain.
Homage
The subject of this year's homage will be Italian costume designer Milena Canonero, who will also receive an Honorary Golden Bear for her lifetime achievement.
Canonero, a four-time Oscar winner, has worked with directors including Stanley Kubrick, Francis Ford Coppola, Sydney Pollack, Warren Beatty, Roman Polanski, Steven Soderbergh, Louis Malle, Tony Scott, Barbet Schroeder, Sofia Coppola, and Wes Anderson. Over the years she has won four Academy Awards for her outstanding costume designs and been nominated five other times.
Berlin will screen films she has worked on including Barry Lyndon, Chariots Of Fire, A Clockwork Orange and The Shining.
Meanwhile, recipients of this year's Berlinale Camera will be film producer and distributor Nansun Shi, actor Geoffrey Rush, and film critic and author Samir Farid.