Homage to the British filmmakers work to feature at the festival in February, where he will receive an honorary Golden Bear.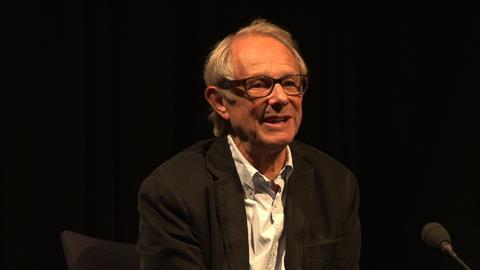 British director Ken Loach is to be awarded the Honorary Golden Bear for lifetime achievement at the 64th Berlin International Film Festival (Feb 6-16).
The award ceremony will be accompanied by a screening of Raining Stones, Loach's film about a man who makes disastrous choices in trying to raise the money for his daughter's first Communion dress. It won the jury prize at the 1993 Cannes Film Festival.
Berlin will also host a homage to Loach's work, including 1966 TV drama Cathy Come Home, about a young mother who becomes homeless after her husband loses his job.
It was seen by 12 million people on its first broadcast - a quarter of the UK population - and is regularly cited as one of the best, most influential British TV dramas and led to the setting up of the charity Shelter within a week of its broadcast.
Other award-winning features in the homage include:
Kes (1969)
The Gamekeeper (1980)
Raining Stones (1993)
Ladybird Ladybird (1994)
Land and Freedom (1995)
My Name is Joe (1998)
The Navigators (2001)
Sweet Sixteen (2002)
Looking for Eric (2009)
Berlinale director Dieter Kosslick said: "Ken Loach is one of Europe's great directors. Over his almost 50-year career, he has shown an extraordinary degree of continuity, while remaining innovative at all times.
"His profound interest in people and their individual fates, as well as his critical commitment to society have found expression in a variety of cinematic approaches. We are honouring Ken Loach as a director and greatly admire him for how he reflects on social injustices with humour in his films."
Last film
Loach is currently finishing Jimmy's Hall, which will likely be his last narrative feature.
Written by Loach regular Paul Laverty, it is set in 1932 and follows Irish communist leader James Gralton who returns from a decade in New York to re-open the dance hall he built in 1921. The film will "celebrate the spirit of the free thinkers who went to learn, argue, dream and have fun" in the dance hall.
It is a Sixteen Films, Element Pictures, Why Not Productions and Wild Bunch production made with support of the BFI, Film4, Bord Scannán na hÉireann/Irish Film Board.
A fine cut of the film is expected to be completed by the beginning of February. US animation studio Pixar stepped in to help provide materials for the edit, which could be the last major feature to be cut on a Steenbeck.
50-year career
After directing episodes of TV dramas such as Telltale and Z Cars in 1964, Loach came to prominence as a young director at the BBC with Cathy Come Home, which established the gritty, realistic tone - sometimes using non-professional actors - that would become a trademark of his work.
His international breakthrough came in 1969 with Kes, the story of an imaginative young boy and his kestrel which is considered one of the key works of realism in European cinema.
Loach continued to make TV films such as The Gamekeeper in 1979, about an estate warden who gets caught in a conflict of interest between his boss, a duke, and the villagers.
One of Loach's most politically engaged features - made under the signs and effects of the Margaret Thatcher era - is 1994's Ladybird Ladybird, about a woman and mother who is betrayed by those who should help her.
My Name is Joe, starring Peter Mullan, is a love story between an unemployed recovering alcoholic and a social worker.
In The Navigators, the solidarity of railway workers is tested by the privatisation of British Rail, while Land and Freedom is set during the Spanish Civil War, while alluding to parallels in present-day Great Britain.
Sweet Sixteen is the story of a youth who turns into a ruthless drug dealer while Looking for Eric is a comedy about an unemployed postman who receives advice from visions of an ex-football star.
Loach has also shown several films in the Berlinale Competition and the Berlinale Special series. Most recently, in 2013, he presented documentary The Spirit of '45.