A pool of 550 producers, sales agents and financiers will attend this year's event.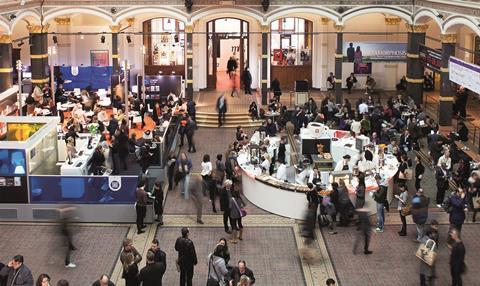 Scroll down for full list
The 14th edition of the Berlinale co-production market (Feb 12-15, 2017) at the European Film market (EFM) has revealed its line-up of 36 feature film projects.
The Berlinale team is organising a total of 1,200 one-on-one meetings for the selected projects' producers, with a pool of 550 producers, sales agents, broadcasters, distributors, film funds and financiers from across the world scheduled to attend.
Of the 36 films, 20 have been selected for the official project selection. They were chosen from 323 submissions and have budgets ranging from 750,000 Euros to €11m. To be eligible, they must have raised 30% of their projected budget prior to the event.
The further projects will be presented in separate strands, including 10 in the Talent Project Market, organised with Berlinale Talents, which highlights emerging filmmakers.
In the Berlinale Directors segment, three directors who have previously screened films at the festival will present their new works, which are still in the early stages of development. They are Johnny Ma (Ten Thousand Happiness), Sibs Shongwe-La Mer (Colour Of The Skull), Ronny Trocker (Zorro).
Three additional projects will be presented in the Rotterdam Berlinale Express, which will see the selected films take part in both the CineMart Rotterdam and Berlinale Co-Production market.
There are three financial awards on offer: the Eurimages Co-Production Development Award of €20,000, the VFF Talent Highlight Award of €10,000, and the ARTE International Prize of €6,000.
Elsewhere, there are four confirmed companies participating in the Company Matching Programme, which will allow co-pro market attendees to meet them to discuss their projects. They are France's Haut et Court, Israel's Black Sheep Film Productions, Norway's Mer Film, and Germany's Weydemann Bros.
Berlinale Co-Production Market 2017
(in alphabetical order by production company)
Where the Summer Went (D: Beatriz Sanchis), Animal de Luz Films, Mexico
Psychobitch (D: Martin Lund), Ape&Bjørn, Norway
7500 (D: Patrick Vollrath), Augenschein Filmproduktion, Germany
Irene (D: Celina Murga), Cepa Audiovisual & Tresmilmundos Cine, Argentina
The Ski Jumper Who Didn't Want to Land (D: Hans Petter Moland), Chezville & Storyline Studios, Norway
Overgod (D: Gabriel Mascaro), Desvia Produções, Brazil
Clear Blue (D: Lindsay MacKay), Devonshire Productions, Canada
Man's Fate (D: Lou Ye), Dream Factory, China & Chinese Shadows, Hong Kong, China
The Deer (D: Bogdan George Apetri), Fantascope, Romania
The Monster Within (D: Rodrigo Susarte), Forastero, Chile
Lost Country (D: Vladimir Perisic), KinoElektron, France, Trilema, Serbia & MPM Film, France
Benigno Cruz (D: Jorge Hernandez Aldana), La Pandilla Producciones, Venezuela & Lucía Films & Paloma Negra Films, Mexico
Eloe (D: Piotr Złotorowicz), Lava Films, Poland
Charlatan (D: Agnieszka Holland), Marlene Film Production, Czech Republic
A Film by Verner Holm (D: Jannik Johansen), Profile Pictures, Denmark
Blanquita (D: Fernando Guzzoni), QuijoteRampante, Chile
Paloma's Wedding (D: Marcelo Gomes), Rec Produtores, Brazil
Waiting for an Angel (D: Akin Omotoso), Rififi Pictures, South Africa & Triptych Media, Canada
Dead Noon (D: Jeff Desom), Samsa Film, Luxembourg
Daughter of Mine (D: Laura Bispuri), Vivo Film, Italy
Berlinale Directors projects:
Ten Thousand Happiness (D: Johnny Ma), Image X Productions, China
Colour of the Skull (D: Sibs Shongwe-La Mer), Mille et Une Productions, France
Zorro (D: Ronny Trocker), Zischlermann Filmproduktion, Germany
Rotterdam Berlinale Express:
Girls of the Sun (D: Eva Husson), Maneki Films, France
Jumpman (D: Ivan I. Tverdovsky), New People Film Company, Russia
The Wife of the Pilot (D: Anne Zohra Berrached), Razor Film Produktion, Germany
Talent Project Market:
The Deposit (P: Eva Sigurdardottir), Askja Films, Iceland
MNK Boy (P: Aydin Dehzad), Kaliber Film, Netherlands / Turkey
Shock Labor (P: Maria Carla del Rio), Marinca Filmes, Cuba
The Bus to Amerika (P: Nefes Polat), Mars Production, Turkey
The Space Between (P: Angela Lee), Nifty Pictures, USA
Memoryland (P/D: Quy Bui), Pixelholic Media, Vietnam
Tomorrow is a Long Time (P: Jeremy Chua), Potocol, Singapore
Never the Bright Lights (P: Tonee Acejo), Quiapost Productions, Philippines
You Will Die at Twenty (P: Hossam Elouan), Transit Films, Egypt / Sudan
Breaking Surface (P: Julia Gebauer), Way Creative Films, Sweden