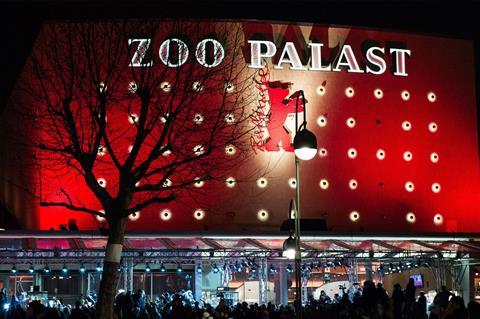 The Berlin International Film Festival's annual co-production market has unveiled the 37 feature film projects that will form this year's selection.
There are 22 projects taking part in the Official Selection, including new films from Boo Junfeng, whose The Apprentice premiered at Cannes in 2016, and Uberto Pasolini, whose credits as a director include Still Life and Machan, and as a producer include The Full Monty.
Also attending with a new project is Carla Simón, the director of Summer 1993, which was a hit at the Berlinale in 2017, and brothers Arab and Tarzan Nasser, who had Dégradé premiere at Cannes in 2015.
Each project in the Official Selection either has the backing of a national fund or has 30% of its proposed financing already in place.
The co-production market, which runs February 9 – 13 this year, has invited more than 600 producers and financiers, and will host at least 1,300 pre-arranged meetings.
Of the selected projects, 48.6% have female filmmakers attached (20 women directors).
The event will also host three projects in the Berlinale Directors showcase, all of whom have had films play at the Berlinale, 11 projects in the Talent Project Market, which highlights upcoming producers, and two in the Rotterdam-Berlinale Express programme, which is a co-initiative with International Film Festival Rotterdam's CineMart.
There will be three prizes on offer: the Eurimages Co-Production Development Award (€20,000), the VFF Talent Highlight Award (€10,000) and the ARTE International Prize (€6,000).
Five companies have been selected for the Company Matching initiative – with attendees at the market able to request individual meetings with them. They are: Bord Cadre Films (Switzerland), Heretic (Greece), One Two Films (Germany), Pimienta Films (Mexico), Proton Cinema (Hungary).
Full line-up:
Official Project Selection

Compartment Number Six – dir. Juho Kuosmanen (Aamu Film Company, Fin)
Alcarràs - Carla Simón (Avalon PC, Sp)
The Hunt For The Puma - Marcela Said (Cinéma Defacto, Fr)
Rule 34 - Júlia Murat (Esquina Filmes & Bubbles Project, Braz)
Hinterland - Stefan Ruzowitzky (FreibeuterFilm, Aust, Amour Fou Luxembourg, Lux)
Paradise – Bijon (Goopy Bagha Productions, Bang, Razor Film Produktion, Ger)
The Kidnapping - Wang Yichun (Huace Pictures, Voilà Pictures, China)
Reshma Shera - Megha Ramaswamy (Jar Pictures, Ind)
The Property - Dana Modan (July August Production, Isr, Extreme Emotions, Pol)
Apollo - Arab and Tarzan Nasser (Les Films du Tambour, Fr)
Petite Fleur - Santiago Mitre (Maneki Films, Fr, La Uniòn de los Rìos, Arg)
Home Away - Thanos Anastopoulos (Mansarda Production, It, Fantasia Audiovisual, Gr)
A Responsible Adult - Shira Geffen (Marker Films, Isr)
Chica_Chile_Norway - Ingvild Søderlind (Miso Film Norge, Nor)
Je Suis Karl - Christian Schwochow (Pandora Film Produktion, Ger)
Dominion - Boo Junfeng (Peanut Pictures, Sing)
The Souls - Tallulah H. Schwab (PRPL, Neth)
Nowhere Special - Uberto Pasolini (Red Wave Films, UK)
For Real - Benjamin Cantu (Rohfilm Factory, Ger)
Farewell O Earth - Ask Hasselbalch (Snowglobe, Den)
Slash/Back - Nyla Innuksuk (Stellar Citizens, Scythia Films, Mixtape VR, Can)
Happy Sheep - Valéry Rosier (Wrong Men, Bel)
Berlinale Directors Projects
A Golden Shotgun - Alex Anwandter (Araucaria Cine, Panchito Films, Chile)
From Malta To Oblivion - Axel Petersén (Flybridge, Swe)
Patrimonial Fears And Other Symptoms - Elina Psykou (Homemade Films, StudioBauhaus, Gr)
Rotterdam-Berlinale Express
Stillborn - Olga Chajdas (Apple Film Production, Pol)
Peaches - Jenny Suen (White Sea Pictures, HK, Salty Pictures, China)
Talent Project Market – Projects and Selected Production Talents
Three Brothers - Francisco Paparella (3 Moinhos, Braz, Río Azul Films, Arg)
Each Of Us - Anne Zohra Berrached, Carla Simón, Meritxell Colell (Alhena Production, Sp)
Livramento - Lillah Halla (Arissas Multimidia, Braz)
Kullu Men Allah - Rotem Kaplinsky (Black Sheep Film Productions, Isr)
Bufis - Mahad Ahmed, Vincenzo Cavallo (Cultural Video, Ken)
Wolf - Nathalie Biancheri (Feline Films, Ire)
The Driver - Lusine Sargsyan (Illusion Production, Arm)
In-Law - Dar Gai (Jugaad Motion Pictures, Ind)
Autobiography - Makbul Mubarak (KawanKawan Media, Indo)
Like A Limbless Tree - Tunç Davut (Tekhne Film, Tur)
Peaches - Jenny Suen (White Sea Pictures, HK, Salty Pictures, China)
Company Matching
Bord Cadre Films, Switzerland
Heretic, Greece
One Two Films, Germany
Pimienta Films, Mexico
Proton Cinema, Hungary