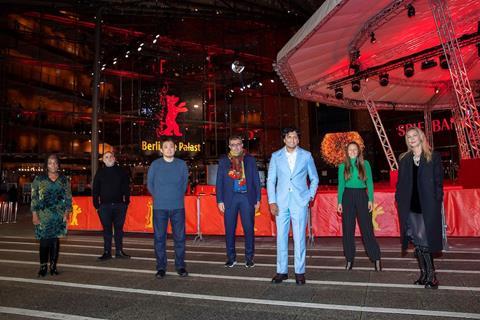 Film festivals exist to close the gap between mainstream and arthouse cinema, according to Berlinale Competition juror and Drive My Car director Ryusuke Hamaguchi.
"In past history there was no gap between [mainstream and arthouse films]," said Hamaguchi, speaking via translator at the opening press conference on the first day of the festival. "The role of the Berlinale is to declare there is no gap. It might look like an arthouse film, but it might have some commercial aspect." Drive My Car received four Oscar nominations earlier this week.
"I live in the centre with loves on both sides," said jury president M. Night Shyamalan of his own work. "When you're making a commercial movie, the storytellers are entirely acknowledging the audience – the taxi driver, the doorman who paid and came in. When they leave the theatre, they're not necessarily changed – they were seen, and that's beautiful.
"On the other side, independent cinema is the world view of a very specific person. What's beautiful about that is you're seeing a new perspective on the world – you walk out of the cinema and you've changed. My hope has always been that you guys can see me a bit, and I see you."
Hamaguchi said that the festival had sent a "message" by choosing Shyamalan to head the jury, as his films are "a perfect mixture between independent and conventional."
Danish actress Connie Nielsen, who has appeared in studio films such as Gladiator and Wonder Woman, said blockbusters have a role to play in engaging audiences with arthouse work. "Mainstream filmmaking is an incredibly important measure with which to get people to be also interested in more singular voices," said Nielsen. "For actors, it's great for us to participate in big blockbusters, with the hope that when you are also doing films that are less accessible and pleasure-seeking as an experience for the audience, the audience will go with you."
Jury member Karim Ainouz, who has screened at the Berlinale on multiple occasions, acknowledged how "liberating" it is "that certain films that were not celebrated by the mainstream can be now." He also sounded a note of caution, saying "The role of the festival is to shed light on things that won't cross to the mainstream but can help those filmmakers to keep working and developing their own calligraphy."
Covid regulations
Although it took place at its regular venue at the Grand Hyatt Berlin, this was a different opening conference from usual. All press were required to pre-book individual seats, with a single-seat gap between each.
All attending press had to show a negative lateral flow test within the last 24 hours to receive the daily wristband required for entry. The queue for daily tests in the stationary buses outside was pushing 30 minutes by the start of the conference, plus a 20-minute wait to receive the result. The jury were not wearing masks; but unlike at Cannes, journalists kept masks on when asking questions. This did not appear to dampen the mood in the room among press, who were compliant with safety measures throughout; although the attendance was at roughly 75% of what it could have been, even allowing for the staggered seating.
Hamaguchi also paid tribute to Berlinale artistic director Carlo Chatrian, who was leading Locarno Film Festival in 2015 when it awarded the Japanese director's Happy Hour with a Special Mention and the best actress prize. "The Berlinale is a very well-thought-out event," said the director. "There's also a very human warmth, under the circumstances."
Jurors also noted formative films in their cinema learning, with Zimbabwean writer Tsitsi Dangaremba choosing To Sir With Love starring Sidney Poitier; Shyamalan recounting a full screening of Raiders Of The Lost Ark where the couple sat beside him bought him popcorn because he looked so nervous; and Ainouz mentioned how he puts a dance scene in each of his movies due to "the joy of John Travolta" in Saturday Night Fever.