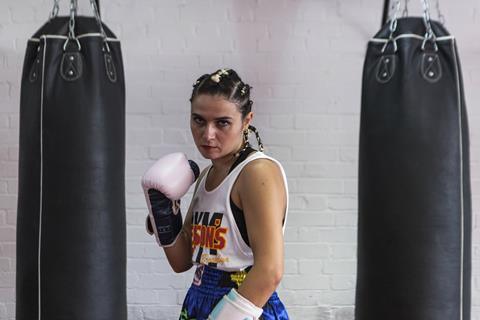 CPH:DOX has unveiled the 34 projects set to be presented at CPH:FORUM, its financing and co-production event from March 24-26.
Scroll down for full list of titles and descriptions
The selection includes new projects from Oscar-nominated Laura Nix (Walk Run Cha-Cha) and Talal Derki (Of Fathers And Sons), Berlinale winner Adina Pintilie (Touch Me Not), Sundance winners Jialing Zhang (Born In China) and Ra'anan Alexandrowicz (The Law in These Parts) and Venice winning team Elwira Niewiera and Piotr Rosolowski (The Prince and the Dybbuk).
Titles include Her, a documentary about the female artists who collaborated with late music icon Prince. The UK-US co-production is directed by two-time Primetime Emmy-winning filmmaker Geeta Gandbhir.
For the seventh year, the Forum projects are eligible for the Eurimages Co-Production Development Award of €15,000 ($16,300) for the event's best pitch.
The event is also moving to a bigger venue, from the ballroom at Kunsthal Charlottenborg (CPH:DOX's festival centre) to Stærekassen, a building annexed to the Royal Danish Theatre that is a short distance from Charlottenborg.
More than 150 attending decision-makers will include streaming platforms Disney+, Netflix and MUBI; broadcasters such as ARTE, ZDF, BBC, CNN, Nat Geo, POV and DR; studios Participant Media, Topic, HHMI Tangled Bank Studios; and organisations including Science Sandbox, Freedom of Speech Foundation, Bill and Melinda Gates Foundation and the Open Society Foundation.
In addition, six work-in-progress projects from Nordic producers and directors have also been selected and will present at the CPH:WIP event on March 24.
Upcoming, nearly finished films from established Nordic talents as well as rising stars of the region, such as Camilla Nielsson (Democrats) and Joonas Berghäll (Stream Of Life), will be seeking gap financing or a launchpad for further distribution. The titles are curated in collaboration with the Nordic film institutes.
Titles include The Most Beautiful Boy In The World, a label given by Death in Venice director Luchino Visconti to star Björn Andrésen. Five decades later, directing duo Kristina Lindström and Kristian Petri catch-up with the actor to explore the price of beauty. Andrésen most recently played a memorable role in Ari Aster's Midsommar.
CPH:FORUM 2020 projects
Camerapeople Of The 21st Century (US) dir. Kirsten Johnson
Kirsten Johnson turns to fellow camerapeople as she expands her investigation into the pressing issues of making images in the era of smartphones and digital immediacy.
Compassion On Prescription (Den) Louise Detlefsen
Nurse May Eiby wanted to turn dementia treatment upside down. She opened her own retirement home and became controversial when she took away all medicine. Instead, the 11 inhabitants enjoy a treatment of care, hugs, kisses, talks and community.
Confessions Of A Good Samaritan (US) Penny Lane
Director Penny Lane's decision to donate one of her kidneys to a stranger seems to be a simple act of altruism but quickly becomes much more complicated.
Death And The Maiden (Rom) Adina Pintilie
A look into the emotional archaeology of a couple, which goes through a "deconstruction of memory" process together with a filmmaker, to understand and hopefully solve their present relationship crisis.
Fathom (US) Drew Xanthopoulos
Follows some of the world's most immersed whale researchers to explore their groundbreaking work and how a life among whales has shaped them personally.
Girls & Gods (Aust-UK) Verena Soltiz, Inna Shevchenko
Explores the conflict between religion and women, and reveals possible solutions to this historic confrontation. Inna Shevchenko from Ukrainian radical activist group Femen meets feminists, priests, imams and rabbis who are revolutionising religions.
Hana Korea (Den-SK) Frederik Sølberg
Follows Hyorin, a newly arrived North Korean refugee, in her transition to becoming an independent woman in South Korea. To be free, she has been forced to make the biggest sacrifices. Was it worth it? Can she let go of the past?
Her (UK-US) Geeta Gandbhir
A feature-length documentary that will explore the lives and music careers of the female artists who collaborated with, and inspired, the music icon Prince.
Hunger Story (Ger) Talal Derki, Heba Khaled
Details to be released.
If The Streets Were On Fire (UK) Alice Russell
During the height of the knife crime epidemic, two young men fight for their futures as they try to escape the harsh realities of street life through the brotherhood of biking.
Interviewing An Animal In Its Own Language (UK) Duncan Marquiss
An experimental documentary exploring the work of ethologist Nikolaas Tinbergen, who studied animals' responses to dummies and artificial stimuli. Could his theories be relevant to understanding human interactions with artificial intelligence today?
Iron Butterflies (Ukr-Can) Roman Lubiy
In the greatest security crisis in Europe since the Cold War, a butterfly-shaped shrapnel found in the body of the pilot of an Amsterdam - Kuala Lumpur flight proves a superpower's unpunished war crime.
Leviathan Cycle (UK) Shezad Dawood
What happens when the world as we know it ends? Combining fiction and documentary, this film uses conversations with an array of scientists and activists to inform a picture of where the world might be in 20 to 50 years' time, seen through the eyes of a range of nomadic characters struggling with trauma while developing methods for surviving the future.
Looking Back At Love (Swe) Carl Javér
David and Jane, both in their late 70s, are living off the grid in California. They are hippies, artists, activists and lovers. Now they are looking back at their lives and in a series of staged scenes they are figuring out their own history.
Lost Diamond (Swe-Den) Andreas Rocksén, William Johansson Kalén
A nation is shaken by a paedophile case when a father suspects that his daughter is being sexually abused. When the suspected perpetrators are killed, the father is found dead soon after. Suspicions rise again when a mass of police come and take the girl away. Her name is Diamanthe.
Nice Bright Colors (US) Laura Nix
The transition from analogue to digital photography has radically changed the way we document and preserve visual memory. This film explores this shift through the personal archives of the residents of Rochester, NY, the home of Kodak.
Patagonia Park (US) Stephanie Spray
At the heart of an ambitious public parks project in Chile, dedicated conservationists rewild native species on vast tracts of depleted ranchlands. Patagonia Park artfully depicts the labour of conservation at this moment of mass species extinctions.
Red Gold (UK) Nelly Ben Hayoun-Stepanian
Future worlds colonise old worlds, the migrant body transforms into an avatar. Through role-play, illusion, and alchemy, Red Gold offers an experimental vision of magical diasporic communities between Europe, North Africa and South Caucasus.
Stayers (Nor) Julia Dahr, Julie Lunde Lillesæter
A vanishing island community in Virginia fights for a sea wall to save them from floodings - but they don't believe in man-made climate change. Framed by the divisive 2020-election the film aims to start a respectful conversation and explore how to deeply understand someone you differ with.
Testosterone: The Movie; Gender: The Series (US) Kimberly Reed
Explores both the scientific and social definitions of gender through the lives of female Olympic athletes denied access to competition, a world-famous intersex supermodel, and gender defying actors who reject categorisation.
That Sound High In The Air (Serb-Fr-US) Srdjan Keča
A group of scientists and their assistants traverse an inaccessible and unexplored part of the Sahara, seeking answers about its climate history and the great migrations of the past. At night, on shortwave radio, they hear news from a faraway world.
The Gift (Aust-UK-Fr) Jasmina Cibic
Four people, representing fundamental freedoms, judge a competition to choose a gift that could heal a divided nation. An artist, a diplomat and an engineer each pitch an idea that they hope will adequately represent the country's ideology and aspirations.
The Hamlet Syndrome (Pol-Ger) Elwira Niewiera, Piotr Rosołowski
A young Ukrainian theatre director takes us on a search for the Hamlets of today. Her theatrical production becomes the starting point for a thrilling portrait of a young Ukrainian generation marked by war and a time of huge political change.
The Last Of The Seagulls (Fin-Bul) Tonislav Hristov
Ivan is an old seagull, a Bulgarian man hooking up with foreign ladies at Sunny Beach resort. He has seen the changes in the Balkans first hand: Soviets coming and leaving, Westerners flooding in and Russians coming back to buy property. Now Russians and Ukrainians come to find Bulgarian men in order to get married and earn permission to stay in the EU.
The Roulette Project (Den-US) Pernille Rose Grønkjær
In the early 1970s two world class physicists developed a betting system based on Chaos Theory, and with it they broke the bank in Las Vegas casinos and later on used the same system on Wall Street, allowing them to break free from the system. Who would have imagined that today the same system is ingrained in every aspect of the global financial market that our society rests upon?
The Viewing Booth Project (US) Ra'anan Alexandrowicz
Expanding on the cinematic concept introduced in The Viewing Booth (2020), a non-linear series of films will explore a space ostensibly off-limits to cinema — the internal experience of its viewers. Through engagement with the real-time thoughts and emotions of viewers, the series will provoke questions concerning the conflicted relationship between fiction and authenticity, as well as entertainment and empathy in the current nonfiction environment.
The Wake (Fr-UK-Haiti) The Living and the Dead Ensemble
A film as a dream throughout an endless night, in the midst of a global crisis, with people who have been pushed to the peripheries of the world and decide to revolt. A funeral wake imagines connections between living and dead partners in struggle.
Tristan Forever (Swi-Fr) Tobias Noelle
For over 20 years, a doctor from Paris maintained a friendship to a fisherman from Tristan da Cunha, the most isolated inhabited island in the world. Now he returns, with the aim to stay for good.
Untitled Chinese In Africa Project (US) Jialing Zhang
A Chinese businessman dreams of turning a backwater Nigerian town into the manufacturing epicentre of West Africa.
Vivien Will Be Adult (Hun) Eszter Hajdú
Eszter Hajdu's long-term documentary is about Vivien, a 19-year-old blind Roma girl from a small village in Hungary. Vivien has been followed by the documentary team from the age of one. She is now an adult and has to make her own decisions in a country which is led by the most extreme-right government in Europe.
Votes For Sale (Den) Niels Borchert Holm
Amid another explosive American presidential election, the film dispels myths of Cambridge Analytica's psychographic black arts of 2016 and finds the real data wizard, still leading Trump's online war, in a sleepy Texas suburb.
When A City Rises (HK-UK) Amy Ip, Yuling Chow, Cathy Chu
What happens when a city rises up against the world's most powerful authoritarian country? Relationships break and form amidst tear gas and rubber bullets, and across the border, China's People Liberation Army awaits.
Why We Fight (Bel-Ger) Alain Platel
If we can't find the words to express our biggest, deepest and ugliest feelings, the body takes over.
XR This Is An Emergency (UK) Maia Kenworthy, Elena Sánchez Bellott
The story of a group of ordinary people who devote their lives to a radical climate movement with mass civil disobedience at its core; they are rebellious, they are law-breaking, they are flawed. And they won't stop until governments tell the truth.
CPH:WIP 2020 projects
Acts of Deception (Nor-Den) Ola Waagen
A compassionate teacher gets caught up in a dangerous double life when she decides to go undercover in the industrialised meat industry. A film about a young woman who wants to change society, and all the things that happen when she succeeds.
Democrats II (Den-Nor-US) Camilla Nielsson
After the fall of Mugabe in a military coup, Zimbabwe is at a crossroads. Opposition leader Nelson Chamisa challenges the old guard in the ruling party ZANU-PF. How will they interpret democracy in a post-Mugabe era - in discourse and in practice?
Internet Of Emotions / Reality Lost (Den-Swe-Can) David Borenstein
We live in an age where companies and individuals use the power of the internet to remotely control our decision-making. But how do they do this? The answer is our emotions. From trolls in the USA that harness the power of anger, to Chinese live-streamer girls that study how to make men fall in love.
School Shooters (Den-Swe-Fra) Frida Barkfors, Lasse Barkfors
As the disaster of yet another school shooting hits, some parents are faced with a brutal fact: their child was the one pulling the trigger.
The Most Beautiful Boy In The World (Swe-Den) Kristina Lindström, Kristian Petri
During the premiere of Death in Venice, director Luchino Visconti proclaimed his Tadzio as the world's most beautiful boy. It is a shadow that today, 50 years later, weighs on Björn Andrésen's life. A film about a dark family history and the price of beauty.
The Red Ring (Fin-Ger) Joonas Berghäll
A silent epidemic in a globalised world: director Joonas Berghäll seeks a cure to his illness and answers to why efforts are not made to stop this global epidemic before it is too late.