Dutch royalty attend opening, which kicked off with Boudewijn Koole's new feature; Bero Beyer hails Rotterdam diversity.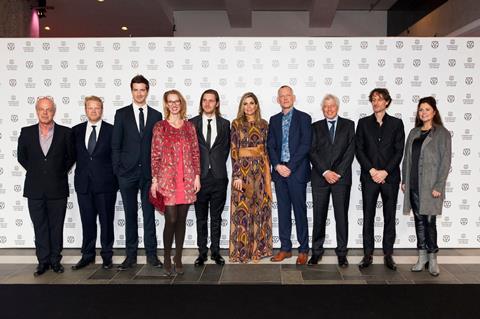 The 45th International Film Festival Rotterdam (IFFR) (Jan 27 - Feb 7) opened last night with an unlikely infusion of glamour in the shape of 44-year-old Queen Maxima.
The Queen, attending IFFR for the first time, was in the festival's main venue, the Doelen, for the screening of opening film, Beyond Sleep. The film is directed Boudewijn Koole (Kauwboy) and based on Dutch novel Nooit meer slapen by W.F. Hermans.
"International Film Festival Rotterdam is about as old as I am," new festival director Bero Beyer commented in his opening speech. "It has been here year after year, growing in size and impact…but we should not take either the festival nor the open environment for granted.
"All over the world, filmmakers we cherish and have welcomed here in the past are prohibited to show their work, restricted in their movements, put under house arrest, incarcerated or worse. Why? The powers that be feel threatened or offended by the outspokenness of their filmmaking art. IFFR salutes those filmmakers."
Refugee crisis
Beyer also addressed the refugee crisis in Europe. He flagged up the six short films commissioned by the festival that look at Rotterdam as a crossroads for many different cultures.
Daniel Aragão from Brazil (I Swear I'll Leave This Town); Ying Liang from China (When Night Falls); Mira Fornay from Slovakia (My Dog Killer); Yassine El Idrissi from Morocco (The Iranian Film). and Dutch filmmakers, Guido van Driel (The Resurrection Of A Bastard) and Aboozar Amini (KabulTehranKabul), are the directors involved in the 'This Is Where The Reconstruction Starts' programme.
"For three quarters of a century now, Rotterdam has been re-shaping its heart since it was all but obliterated in World War Two," said Beyer of the Rotterdam blitz of 1940 that left the city in ruins.
Diversity
The festival director added that reconstruction wasn't just about building and infrastructure but about the "spirit of the city." Rotterdam's identity, he continued, was forged by its diversity.
"We (in Rotterdam) are a diverse group of individuals. We're all different but together we are recognisable as a distinct community. In fact, I would say our identity as a city or a nation, the very wealth of our culture is defined by our openness to others. That is what makes us who we are."
Several prominent guests will be in Rotterdam over the next 12 days. Udo Kier is attending the festival screening of David Schalko's TV series Altes Geld, billed as "a Dallas for the insane," in which Kier stars.
Laurie Anderson will be in town for the screening of Heart Of A Dog while former Oscar nominee Hany Abu-Assad is at IFFR with his film The Idol.
CineMart
The festival's main industry event, CineMart, runs Jan 31 to Feb 3 where a total of 25 new projects from 25 countries are being pitched.
Among these are a new feature film version of Alfred Döblin's classic novel Berlin Alexanderplatz (the subject of a classic TV series by Rainer Werner Fassbinder) from director Burhan Qurbani, Guido van Driel's new feature Bloody Marie, British director Andrew Hulme's next project The Devil Outside, Romanian auteur Radu Jude's Is This What You Were Born For and Ben Sombogaaprt's refugee love story Rafaël.