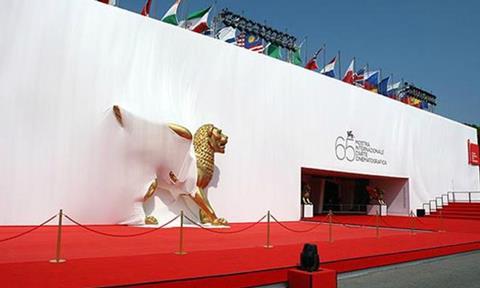 Venice Film Festival organiser the Biennale confirmed the event's September 2-12 dates on Monday (20) while the organisation's president Roberto Cicutto told Italian news agency ANSA that there were no plans afoot to collaborate with Cannes Film Festival at present.
Rumours have been rife in France and across the international film festival circuit that historic film festival rivals Cannes and Venice could work together this year, after Cannes was forced to abandon its May 12-23 dates as well as tentative plans for a late-June start due to the Covid-19 pandemic.
"With Cannes everything is possible and everything can be studied but I find it disconcerting that Thierry Frémaux says he is continuing to deliberate and doesn't say what he wants to do," Cicutto told ANSA.
"We're going ahead with our programme. If Cannes is still thinking about us there aren't any ongoing discussions. It's not on the table today."
In the backdrop, speculation has also been growing over whether the Venice Film Festival might also be prevented from going ahead, given the extent of the Covid-19 outbreak in Italy, where there had been 178,972 confirmed cases and 23,660 deaths as of April 20.
The Biennale signalled on Monday, however, that it was on track to hold the film festival as scheduled in a press release announcing that its theatre and dance festival, which had been due to take place in June and July, had been moved to September 14-24.
The release also detailed the film festival's September 2-12 dates as well as dates for its contemporary music festival, which has been re-dated for September 25-October 4.
Speaking to ANSA about his expectations for the upcoming edition of the Venice Film Festival, Cicutto suggested it could act as a "big laboratory" and an example of how other public events and cinemas could open up, using spacing and quotas in theatres.
He suggested that the Biennale would have a better view of how the film festival could unfold by end-May, by which time Italy is expected to have lifted many of the restrictions it placed on the population in early March to slow the spread of Covid-19.
Italy opened bookshops and children's clothes shops last week and the government is mulling a tentative plan to reopen factories on May 4, in places with low population densities.
"We've been doing simulations of a typical day and we know that online support will be important for the international press but we'll put everything together in one proposal which we will check with producers. But we have to wait and see what conditions will be laid down and we don't have a crystal ball," said Cicutto.
He added that the Biennale had held talks with the Italian government on its budget and the impact of lower box offices for all its different events.
"For now, we're working with the projected budgets, which included state funding and the box office, but we're going to have to take these reduced receipts into account. I know there is a project to support cultural bodies and I don't think the Biennale will be excluded."