Abdul Zainidi's Worm And The Widow and Sokyou Chea's Soul Searching take top award.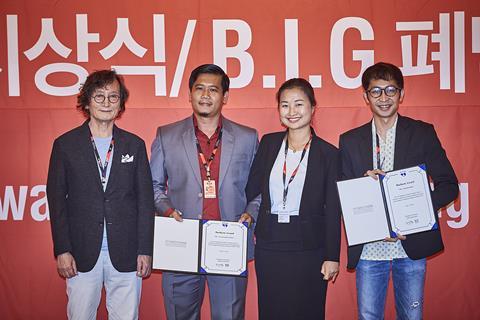 The Bucheon Award at this year's Network of Asian Fantastic Films (NAFF) in South Korea went to two projects from countries not so often touted in cinema – Abdul Zainidi's Worm And The Widow from Brunei and Sokyou Chea's Soul Searching from Cambodia.
The 22nd Bucheon International Film Festival (BIFAN)'s industry programme NAFF runs until today (July 18) with the awards presented last night. According to organisers, the selection of 26 projects saw a total of 495 meetings with 67 companies and institutions over three days.
Worm And The Widow is about outcasts in Brunei society who lean on each other to overcome social prejudices and pressures.
Soul Searching starts with the stories of people who claim to have sensed the presence of a spirit or have had an out-of-body experience. The Bucheon Award comes with a cash prize of $13,100 (KW15m).
The NAFF jury this year comprised producer Michael J. Werner of M. Werner Strategic Consultants (US), Train To Busanproducer Lee Dongha of Redpeter Films (South Korea) and producer Tim Kwok of Convergence Entertainment (Hong Kong).
Lee said: "There were a few things we considered aside from the unique charm of each project. First, is how well this project is suited to BIFAN's nature. Second, is how much will this award be realistically useful to the project, and lastly, we took into consideration female and regional filmmaker balance."
The BIG NAFF Award, which comes with $8,870 (KW10m), went to director Vishal Furia's Bogie No. S4. Selected as part of this year's Project Spotlight: India, the film is being pitched as the first horror film set in a train in India, "capturing the background of an Indian society where 4,500 people commit suicide on the country's trains every year." The project also picked up the Blood Window Award from Ventana Sur's industry programme.
The BIG NAFF Korean Award, which presents one of the Korean It Project selections with $5,325 (KW6m), went to Jeon Inhwan's Remember, Spring. The film revolves around people who have survived a tragic history and cross over into a parallel universe to overcome their realities.
Producer An Youngjin wanted to emphasise that the project is "100% Made in Bucheon" by a production company "based in Bucheon and is currently being written by the director, based in Bucheon."
The DHL Award of $4,430 (KW5m) went to Finnish project Sound From The Deepby directors Joonas Allonen and Antti Laakso.
The Sitges Pitchbox Award went to one of NAFF's most popular projects for meeting requests – Siri by director Woo Ming Jin from Malaysia with a story about reconciling life and death.
Post-production support awards including the Moneff Award for editing went to The Saigon Visitorby director Dave Boyle, The Color Award for digital intermediate support went to Superpower Girlby director Kim Sooyoung, and the Mocha Chai Award for final cinema mixing/grade with DCP output went to Matilda Corkscrewby director Victor Jaquier.