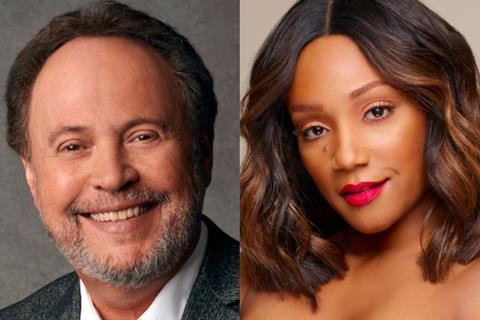 Rocket Science will launch international sales in Toronto on Astute Films' Here Today, which stars Billy Crystal and Tiffany Haddish and is described as a rom-com that tears up the rule book on the generational divide.
Crystal will direct from a screenplay he co-wrote with his fellow Saturday Night Live alum Alan Zweibel based on Zweibel's short story The Prize.
Principal photography is set to begin in New York in October on Here Today, which redefines the meaning of love and trust as it follows a veteran comedy writer slowly losing his grip on reality who strikes up a touching and deep friendship with a talented young New York street singer.
Astute Films' President Fred Bernstein is producing alongside Crystal, Dominique Telson, Zweibel, and Haddish. Executive producers are Rick Jackson, and Claudine Marrotte and Samantha Sprecher.
Here Today is an Astute Films production in association with Crystal's Face Productions and Big Head Productions. CAA handles US rights.
"I'm so grateful to get the chance to bring this charming and beautiful story to life," said Crystal. "To write this with Alan was a joy, and to have Tiffany as my co-star is fantastic. The generational differences in our comedy will be great to play with. She's explosively funny and genuinely human at the same time. Excited to explore all our possibilities together."
"Billy and Tiffany share an incredible ability to bring warmth and intelligence to their humor," said Bernstein. "Astute is thrilled to bring such iconic comedic talents together onto one screen. Their timeless humor will bring genuine laughter to a film that will resonate with audiences worldwide, and bridge the gaps among all age groups."
Crystal directed the comedy Mr. Saturday Night (1992), rom-com Forget Paris (1995), and baseball drama 61* starring Barry Pepper and Thomas Jane for HBO in 2001, which earned Emmys and Director's Guild of America best director nominations.
Haddish's additional upcoming projects include Bad Trip, Like A Boss, Down Under Cover, and TV series Madam C.J. Walker. Astute Films produced Best Of Enemies and is in post-production on Never Too Late featuring Ellen Burstyn and James Caan.
Rocket Science's upcoming slate includes Ana Lily Amirpour's female-led reboot of survival blockbuster Cliffhanger; Sean Penn's Flag Day, Gideon Raff's Turn Of Mind starring Annette Bening and Michelle Pfeiffer, and Azazel Jacobs' French Exit with Michelle Pfeiffer and Lucas Hedges.