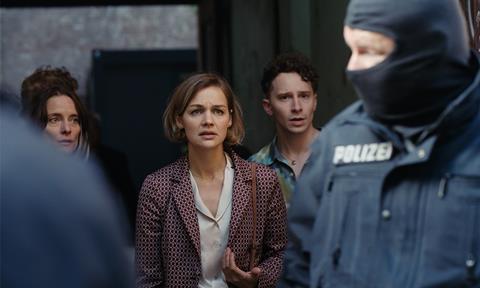 New feature films by Asli Özge, Maximilian Erlenwein and Henrika Kull are among 15 titles premiering in the New German Cinema sidebar at the Filmfest München's 40th anniversary edition (June 23 - July 1).
Turkish-born director Özge's thriller Black Box, whose cast includes Luise Heyer, Felix Kramer, and Christian Berkel, will open the section on June 24 and be released theatrically in Germany by Port au Prince Pictures on August 10 .
The Zeitsprung Pictures production was co-produced with the Dardennes brothers' production company Les Films du Fleuve, gilles mann filmproduktion and Port au Prince's production arm.
Meanwhile, Erlenwein will be coming to Munich with his English-language debut The Dive, produced by Cologne-based augenschein filmproduktion with Malta's Falkun Films, which is being handled internationally by Protagonist and distributed in Germany by Wild Bunch.
Shooting on location in Malta and at the TEC water tank in Schleswig-Holstein, the thriller stars Louisa Krause and Sophie Lowe as two sisters whose dive one of the world's most remote spots becomes a fight between life and death when a landslide sends rocks into the sea and trapping one of the sisters in the watery depths.
And actor Denis Moschitto will be presenting his directorial debut with Shock which he co-directed and co-written with Daniel Rakete Siegel.
Moschitto, whose past acting credits include films by Fatih Akin such as In The Fade and Rheingold, also stars in the uncompromising neo-noir drama opposite Aenne Schwarz, Fahri Yardim and Anke Engelke.
The Munich festival will also serve as the launchpad for Schuldenberg Films' production of Henrika Kull's third feature Salty Water, a drama set in the mountains between Tel Aviv and Jerusalem focusing on sexual tension in an Israel in a constant state of unrest.
The line-up will also include Iranian director Behrooz Karamizade's feature debut Empty Nets telling the haunting story from contemporary Iran about the longing and search for a freer future; Christina Ebelt's prison drama Monster Inside following a pregnant convict's fervent desire for her child to be allowed to remain with her after it has been born.
Two of the films screening in Munich have already announced that they will celebrate their word premieres with other international film festivals at the same time as the Filmfest: Merle Grimme's Clashing Differences, which addresses the ongoing discussion about diversity, at the Frameline Film Festival in San Francisco, and Anna Roller's road movie Dead Girls Dancing at New York's Tribeca Festival.