22 projects in production or post-production will compete at this year's festival.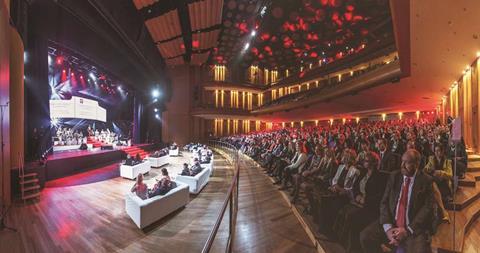 The 19th Tallinn Black Nights Film Festival (Nov 13-29) has unveiled the eight projects that will be featured in its International Works in Progress programme this year.
The titles selected represent a variety of countries deliberately chosen for being outside of the mainstream, including a project from Krygystan and co-productions from Latvia-Japan-Estonia and Egypt-France.
The Latvia-Japan-Estonia co-production Magic Kimono comes from director Maris Martinsons, whose 2008 film Loss was submitted by Lithuania to the Academy Award's foreign language pool.
Freedom, the Germany-Slovakia co-pro, is produced by Sol Bondy, who was named by Screen as a future leader at Cannes 2013, and Jamila Wenske; the pair were both co-producers on Pan Nalin's comedy drama Angry Indian Goddesses.
The film is directed by Jan Speckenbach, whose Reported Missing was nominated for a European Film Award in 2012.
Mohamed Hefzy, also a Screen future leader in 2013, produces Sherif Elbendary's Ali, the Goat and Ibrahim alongside Hossam Elouan.
The festival's Baltic Event Works in Progress strand, a separate section, is this year comprised of 14 titles in production or post-production that originate from the Baltic region.
The titles in both the International Works in Progress and Baltic Event programmes will all compete for the FilmFly Award, which will be judged by Zsuzsi Bankuti, head of acquisition at Match Factory, Lenka Tyrpakova, a programmer at Karlovy Vary International Film Festival, and Azize Tan, an advisor at Istanbul Film Festival.
The project that wins the award will be given a place on the FilmFly training progam, set up by the Estonian Film Institute, which involves two-days training in Estonia and a study trip to Britain to explore the possibilities that lie in the wider international film business.
The festival has also announced that its inaugural Sales Agents and Distributors Meeting Point will bring together some 50 companies, including representatives of Gaumont, Hanway, Wild Bunch and Elle Driver.
International Works in Progress titles:
Ali, the Goat and Ibrahim (Egypt-France) dir. Sherif Elbendary, prod. Hossam Elouan- Mohamed Hefzy (Transit Films / Film Clinic)
Dust (Spain) dir. Llatzer Garcia, prod. Josep Pi (Astrolabi Films)
Freedom (Germany-Slovakia) dir. Jan Speckenbach, prod. Jamila Wenske, Sol Bondy (One Two Films, BFilms)
Magic Kimono (Latvia-Japan-Estonia) dir. Maris Martinsons, prod. Linda Krukle (Krukfilms, Loaded films, Oree films)
Munbiya (Kyrgystan) dir. Taalaibek Kulmendeev, prod. Gulmira Kerimova (Kyrgyzfilm, Aitysh-film, Shaboto Film Group)
The Substance (Spain) dir. Lluís Galter, prod. Sergi Moreno (Lastor Media, Mallerich Films, IDEC-UPF)
Teli and Toli (Russia in association with Georgia, Canada and Greece) dir. Alexander Amirov, prod. Natalia Ivanova, Maria Ksinopulo (Producer Center Horosho Production Co Ltd.)
Ugly (Austria-Ukraine) dir. Juri Rechinsky, prod. Franz Novotny, Alexander Glehr (Novotny & Novotny Filmproduktion)