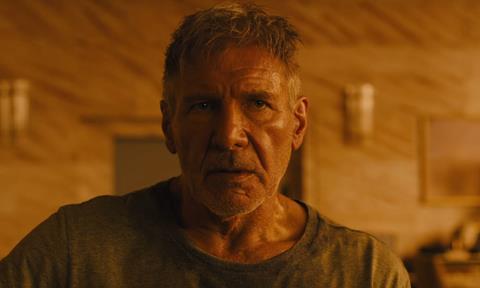 OCTOBER 9 UPDATE: Alcon Entertainment's Blade Runner 2049 could not match the calibre of reviews with the commercial clout required to propel the film towards early break-even as it opened top in North America via Warner Bros on a disappointing $32.8m.
Denis Villeneuve's highly anticipated sci-fi sequel to Ridley Scott's 1982 classic Blade Runner stars Ryan Gosling and Harrison Ford and arrived in 4,058 theatres.
Despite the quality of the film and its promising awards season credentials it engaged with a narrow band of mostly over-25 males. It opened well internationally, delivering $49.2m from the initial wave of markets through Sony Pictures Releasing International. The film reportedly cost $150m to produce, excluding marketing spend, and will need to deliver big results in China to stand a chance of making back its money.
Fox's survival romance The Mountain Between Us with Idris Elba and Kate Winslet arrived in second place through Fox on $10.6m in 3,088 sites, while Liongate's My Little Pony: The Movie debuted at number four on $8.9m in 2,528.
In its third session Fox's Kingsman: The Golden Circle added $8.7m for $80.5m following a 48.8% drop and a four-place slide to number five, while Focus Features' Victoria And Abdul starring awards prospect Judi Dench climbed three to number eight and stands at $5.9m.
Sean Baker's festival darling The Florida Project arrived through A24 at number 27, earning $157,553 in four for a mighty $38,336 average. Agnes Varda's Faces Places opened through Cohen Media Group at number 47 on $31,006 in five, while Berlinale hit Chavela arrived at number 50 through Music Box on $22,453 in four. Purdie Distribution opened family film The Stray on $596,547 from 640 venues.
Overall box office for the top 12 amounted to $99.1m, representing a 20.3% leap on last weekend and a 3.6% gain on the comparable session in 2016.
This week's wide releases are: horror film Happy Death Day through Universal; STX's Jackie Chan and Pierce Brosnan action release The Foreigner; Chadwick Boseman drama Marshall through Open Road; and Professor Marston & The Wonder Women through Annapurna Pictures.
Confirmed top 10 North America October 6-8, 2017
Film (Dist) / Conf wkd gross / Conf total to date
1 (-) Blade Runner 2049 (Warner Bros) Sony Pictures Releasing International $32.8m –
2 (-) The Mountain Between Us (Fox) Fox International $10.6m –
3 (2) It (Warner Bros) Warner Bros Pictures International $9.9m $305.3m
4 (-) My Little Pony: The Movie (Lionsgate) Lionsgate International $8.9m –
5 (1) Kingsman: The Golden Circle (Fox) Fox International $8.7m $80.5m
6 (3) American Made (Universal) Universal Pictures International $8.4m $30.8m
7 (4) The LEGO Ninjago Movie (Warner Bros) Warner Bros Pictures International $7m $44.1m
8 (11) Victoria And Abdul (Focus Features) Universal Pictures International $4.2m $5.9m
9 (5) Flatliners (Sony) Sony Pictures Releasing International $3.9m $12.5m
10 (6) Battle Of The Sexes (Fox Searchlight) Fox International $2.6m $7.8m