Horror sequel Blair Witch edged out the fantasy animation.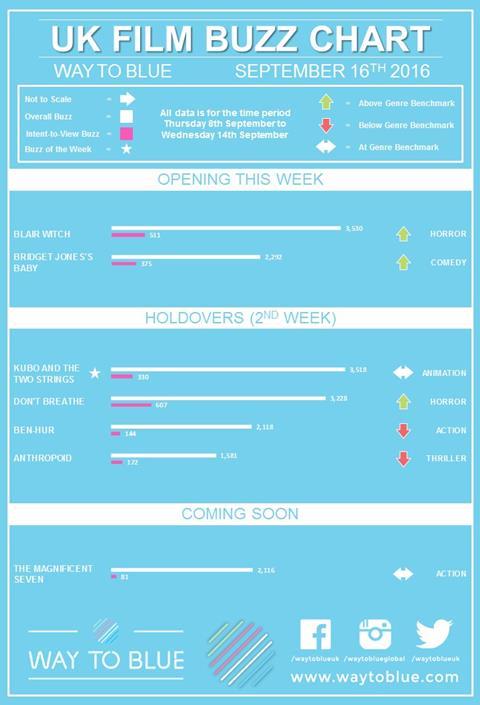 Upcoming horror sequel Blair Witch, which bowed last week at the Toronto International Film Festival, caused the most buzz on UK social media channels throughout the last week, according to analysis firm Way To Blue.
The weekly UK buzz chart places the film above fantasy animation Kubo And The Two Strings, which was released last Friday (Sept 9).
According to the chart, Blair Witch amassed 3,530 comments across social media, news, forums and blogs over the last seven days, with 511 of those registering intent to view.
In comparison, Kubo clocked 3,581 comments, with 330 of those registering intent to view the film.
Other strong performers this week included rom-com sequel Bridget Jones's Baby, Fede Alvarez's thriller-horror Don't Breathe, Timur Bekmambetov action-adventure Ben-Hur, and upcoming western The Magnificent Seven.
For an explanation of the Way to Blue chart and its methodology, which tracks 'overall buzz' and important 'intent to view' buzz, click here.