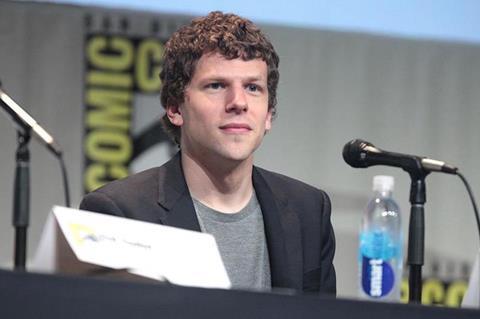 Bleecker Street has secured worldwide rights to Riley Stearns' dark comedy The Art Of Self-Defense starring Jesse Eisenberg and set in the world of karate.

Kent Sanderson of Bleecker Street and Avy Eschenasy negotiated the deal on behalf of Bleecker Street. CAA handled negotiations on behalf of the filmmakers. Principal photography on the End Cue production started on Monday (11) in Kentucky.
Written and directed by Stearns, the film centres on Casey (Eisenberg), who is attacked at random on the street and enlists in a local dojo led by a charismatic and mysterious sensei (Alessandro Nivola), in an effort to learn how to defend himself. What he uncovers is a sinister world of fraternity, violence and hyper-masculinity, and a woman (Imogen Poots) fighting for her place in it. C
Andrew Kortschak, Cody Ryder, Stephanie Whonsetler and Walter Kortschak produce, while Bleecker Street CEO Andrew Karpen serves as executive producer.
"We couldn't be more thrilled to be working with an exciting filmmaker like Riley," Karpen said. "Ever since we saw his work at Sundance and SXSW we knew we wanted to be in business with him and we can't wait to bring his original and hilarious vision to audiences around the world."
Stearns said: "This is a very personal film that happens to have karate in it. I'm lucky to be surrounded by actors, a crew, producers and a distributor like Bleecker Street who care as deeply about the project as I do."