Sales outfit was launched by Wild Bunch and Cine France at Cannes last year.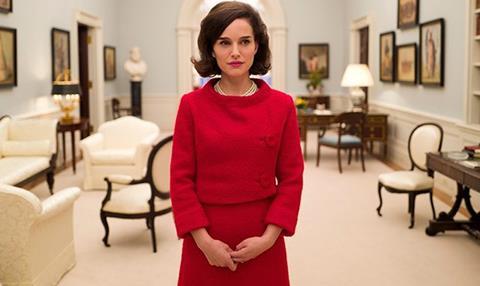 China's Bliss Media has acquired a stake in Insiders, the international sales company launched at last year's Cannes film festival by Wild Bunch and Cine France.
Insiders is headed by Vincent Maraval, who is also CCO of Wild Bunch. Based in Shanghai and Los Angeles, Bliss Media is a production, financing and distribution outfit, which is co-financing Pablo Larrain's Jackie [pictured], starring Natalie Portman, and Michael Mann's Enzo Ferrari, which Paramount Pictures has for the US.
Both titles are on Insiders EFM slate alongside Jeff Nichol's Loving, based on the true story of a mixed race couple jailed in the 1950s for breaking the State of Virginia's law prohibiting interracial marriage, and Sean Penn's Flag Day.
The deal gives Insiders more capital to attract and sell world-class product, while enabling Bliss to expand its international reach. Insiders will handle international sales for both the English and Chinese-language films financed and produced by Bliss.
Bliss Media managing director and CEO Wei Han said: "This furthers our goal of becoming a Chinese film company with the ability to distribute globally. Our interest in Insiders will strengthen the alliance of Bliss Media in the international film industry, as we seek cooperation and expansion in markets outside of China."
Wei Han and Youzu Interactive founder and chairman Lin Qi recently launched the $100m YooZoo Bliss Film Fund (YZBFF), with the intention of financing ten international and Chinese co-productions over the next five years.
Bliss Media's China office also recently acquired the Chinese distribution rights to Mel Gibson-directed Hacksaw Ridge.
CAA brokered the deal on behalf of Bliss Media and Insiders.