Leading Russian actor-director-producer Fyodor Bondarchuk has indicated that he is prepared to bleep out the obscenities in Valeria Gai Germanika's new film Yes And Yes (Da I Da) to ensure its Russian theatrical release.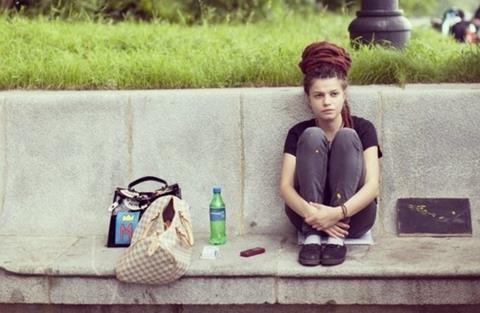 Speaking at a press conference at the Moscow International Film Festival (MIFF) this morning (June 25) ahead of the European premiere of Yes And Yes in the Main Competition, Bondarchuk said that he ¨hoped¨ to get a distribution certificate for the film tomorrow.
"I don't know about the cursing, but we have agreed to put in bleeps if there is no other way [for the film to be released] if the new obscenity law applies to this film," said Bondarchuk.
"We are still waiting for clarification about the situation for films made before when the law comes into effect on July 1. I will know more on Thursday."
With extensive use of swearwords - especially in the opening scenes in the apartment of Bohemian artists - and bottles of vodka being swigged at every opportunity, Yes And Yes might face the same problems as Andrey Zvyagintsev's Cannes winner Leviathan at obtaining a distribution certificate because of the Russian government's new legislation against the use of swearwords in artistic performances.
"Vodka is the engine of our story, I cannot say why," was Germanika's response to journalists' questions about the consumption of vodka in the film. Other members of the press were curious to know whether lead actor Alexandr Gorchilin as a young painter actually drinks his own urine on camera.
Bondarchuk, who produced the film with Dmitry Rudovsky through his production house Art Pictures Studio, said Germanika's film had been "new territory for me" and encouraged him to work with her again in the future.
¨I think this movie should be shown at film schools and pitches to show aspiring young filmmakers how to make films with limited means," he added.
Bondarchuk, who produced and directed last year's 3D box-office hit Stalingrad and is one of the prime movers behind the forthcoming omnibus film Petersburg: A Category Of Feelings, could be the latest Russian director after Night Watch's Timur Bekmambetov to direct Hollywood movies.
Earlier this week at the Moscow Business Square, Monumental Pictures' Michael Schlicht revealed he is developing a biopic about Odysseus with Bondarchuk to direct as his entrée to Hollywood.
Yes And Yes, which reunites Germanika with Agnia Kuznetsova, who starred in her 2008 feature debut Everybody Dies But Me, received its world premiere in the Indie Power sidebar at Hong Kong at the end of this past March.
The film's sales company Reflexion Films also showed the film as an industry screening in Hong Kong's Filmart.
Germanika revealed during the press conference that she will work with screenwriter Alexandr Rodionov on her next feature film, Night Light, which will begin shooting this September for Proline Film.
Night Light was pitched at the Moscow Business Square co-production forum in 2013.
Construction of Moscow's own festival palace
The seemingly neverending saga about a proposed Palace of Film Festivals in the Russian capital has been given a new boost by news that construction could at last begin at the end of this year or the beginning of 2015.
The Moscow Times cited an interview with MIFF president Nikita Mikhalkov saying that German architects had prepared a ¨very beautiful plan¨ of which Russians would not be ashamed.
The idea of a Palace of Film Festivals had first been mooted in 2008 as a facility for all of Moscow's film festivals, premieres and leading musical events
After rejecting other locations, MIFF has now settled on a site on the banks of the Moscow River on Frunzenskaya Naberezhnaya, directly across from Gorky Park.
MIFF miffed by sanctions
US and European sanctions against Russia because of the Ukraine crisis were evidently uppermost in the minds of the Moscow festival organisation at this year's opening ceremony.
As MIFF's general information partner Kommersant observed in its reports about the opening, festival president Mikhalkov uttered the word ¨sanctions¨ at every opportunity.
¨You know, it was difficult this year: sanctions. I invited some of the artists, directors - many were afraid to come! They said: we'll come another time. But the festival is alive nevertheless. Although the sanctions are not really concerning the festival, but the whole country,¨ Mikhalkov was quoted by the newspaper.
¨But, you know, it could be that this is for the best, these two words 'punish Russia' inspire such an ardent feeling inside: nobody is feeding us, nobody is making cinema for us, we must do this ourselves.¨
And Mikhalkov had apparently joked ¨not without bitterness¨.
¨Thank God, it is forbidden to impose sanctions on St George¨ when he handed the symbolic sceptre of power including a likeness of the festival's patron to the jury chairman Gleb Panfilov.
International guests who have come to Moscow for the first half have included directors Godfrey Reggio, Claude Lelouch (a MIFF regular), Andreas Siege, Alberto Fasulo and Krzysztof Skonieczny.