The Wolfpack director makes narrative debut.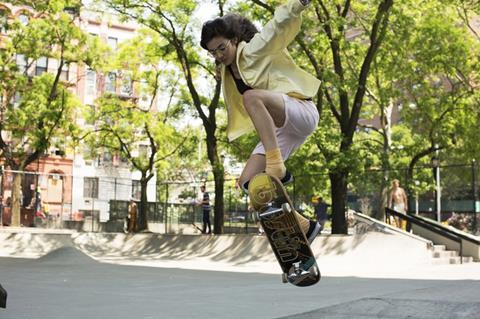 An untitled girl skateboarder feature starring Jaden Smith and Elizabeth Rodriguez and a number of skateboarders from the Skate Kitchen group has wrapped in New York.
Crystal Moselle (pictured), who won the 2015 Sundance documentary grand jury award for The Wolfpack, directs the coming-of-age story about a lonely suburban teenager whose life changes when she befriends a group of girl skateboarders.
The story is inspired by events in the lives of real skateboarders Rachelle Vinberg, Dede Lovelace, Nina Moran, Ajani Russell, Kabrina Adams, and Jules Lorenzo, all of whom appear in the film. Moselle, Aslihan Unaldi and Jennifer Silverman wrote the screenplay.
Moselle focused on Vinberg, Lovelace, Moran, Russell and Adams – members of the Skate Kitchen – in her short film That One Day (pictured), which debuted in Venice last year.
Bow and Arrow Entertainment and RT Features are co-financing, and produce in association with Pulse Films.
UTA Independent Film Group brokered the deal between all parties and handles worldwide rights.
Lizzie Nastro, Izabella Tzenkova, Pulse Films' Julia Nottingham, RT Features' Rodrigo Teixeira, and Bow And Arrow's Michael Sherman and Matthew Perniciaro serve as producers, with RT Features' Lourenço Sant'Anna and Sophie Mas and Pulse Films' Thomas Benski on board as executive producers.