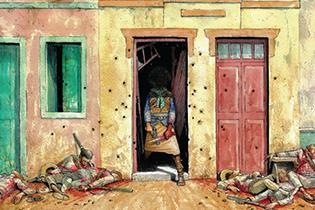 Brazilian director Renata Pinheiro's fantasy horror Carrion has claimed the top Bucheon Award at the 15th Network of Asian Fantastic Films (NAFF) project market, which runs parallel to the Bucheon International Fantastic Film Festival (Bifan) in South Korea.
The revenge thriller, based on a graphic novel by Brazilian writer and artist Shiko, follows a woman was kidnapped by a gang of outlaws and makes a pact with an otherworldly entity to seek vengeance.
Scoll down for full list of winners
The project, produced by Andre Pereira for Rio-based Lupa Filmes, received a cash prize of KRW20 million ($15,300). In a joint statement, the NAFF jury said: "Carrion represents all the good things Brazilian fantastique can give to the world: a Western with cangaceiros (Brazilian bandits), also a horror movie and a revenge tale. Based on an outstanding comic book, it is one of the most promising projects in the international fantastic cinema ecosystem."
The film, which has the original title Carnica, also received the Blood Window award, which includes an invitation to Argentina's Ventura Sur project market.
A series of other prizes were presented today (July 12) at the closing of the Bifan Industry Gathering (B.I.G.), which ran from July 9-12.
The NAFF Award went to Iranian director Amir Masoud Soheili's Holy Fest, which the jury described as a reflection of "how the fantastic genre is a disruptive force playing an important role in changing the reality of the younger generations in the Middle East and Central Asia".
The Discovery of Asia Award went to Nikolas Red's Posthouse from the Philippines, which the jury considered "a very original project, combining family drama, folk horror and celluloid nightmares". The project also took the VIPO award, a new award presented by Japan's Visual Industry Promotion Organization.
This year marked the first in-person NAFF since 2019, although some meetings were still held online. NAFF managing director Thomas Nam told Screen that the event will retain the hybrid format in future editions for the convenience of filmmakers and guests.
Some 217 submissions from 36 countries were submitted this year. A total of 32 projects were selected, including 24 competition titles (13 It projects, 10 Korean country spotlight projects and one project from Ventana Sur's Blood Window) and eight winners pre-selected prior to the event, comprising seven work-in-progress projects and one for Fantastic 7.
NAFF 2022 winners
CASH AWARDS
Bucheon Award
Carrion, dir. Renata Pinheiro (Bra)
NAFF Award
Holy Pest, dir. Amir Masoud Soheili (Iran)
Discovery of Asia Award
Posthouse, dir. Nikolas Red (Phil)
Discovery of Korea Award
Deepfake, dir. Park Yoochan (S Kor)
NAFF Korean Awards
Ecolife, dir. Park Hyonyong (S Kor)
The Well, dir. Lim Daewoong (S Kor)
Fantastic 7 Award
Cannes Film Festival film market entry support
Seoul Horror Story, dir. Kim Hyunjin (S Kor)
VIPO Award
Posthouse, dir. Nikolas Red (Phil)
DHL Award
The Othered, dir. Ham Tran (Viet-Can-US)
POST PRODUCTION SUPPORT AWARDS
C-47 Award
Wangja, dir. Chung Sujin (Korea)
Mocha Chai Award
The Cursed Land, dirs. Panu Aree, Kong Rithdee (Thailand)
SBA Awards
Post-production support for seven work-in-progress projects
The Comedian (S Kor)
Dir. Jeon Seungpyo
Cinematic Novel (S Kor)
Dir. Kim Hyunwoo
Annapurna (S Kor)
Dir. Hwang Seungjae
My Missing Aunt (S Kor)
Dir. Yang Juyeon
A Good Boy (S Kor)
Dir. Son Kyoungwon
Oversteer (Sing-Malay-Thai-HK)
Dir/Pro. Derrick Lui
Jinju's Pearl (Korea)
Dir. Kim Lokkyoung
SUPPORT IN-KIND
Blood Window Award
Invitation to Blood Window, Ventana Sur
Carrion, dir. Renata Pinheiro (Brazil)
Sitges FanPitch Award
Invitation to Sitges Pitchbox programme
Reboot (Korea)
Dir. Kim Sooyoung