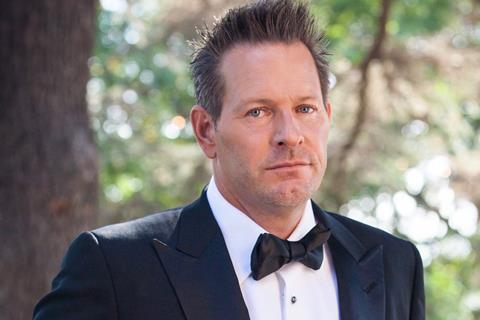 Producer-financier Brian Oliver is officially launching his New Republic Pictures in Cannes backed by a fund out of the US, Europe, India and the Middle East, and has struck a first-look co-financing and distribution deal with Paramount Pictures.
The four-year pact kicks off with Elton John musical Rocketman to star Taron Egerton, which Paramount will distribute worldwide and goes into production this year. Dexter Fletcher will direct from a screenplay by Billy Elliot writer Lee Hall.
Under the tiered deal, Paramount gets first look on a 50-50 co-finance split and worldwide distribution. Where New Republic is pre-selling a project, Paramount gets a first look on US distribution. In cases where New Republic is fully financing a project, Paramount gets a first look to distribute worldwide.
Former Cross Creek Pictures chief Oliver, whose credits include Black Swan and Hacksaw Ridge, is in talks with Nick Meyer's Sierra/Affinity to handle international sales on those projects Paramount elects not to distribute worldwide. Oliver plans to put another two projects into production this year.
New Republic and Johnny Lin's Filmula, one of the investors in the fund, are co-producing and co-financing Mexican Revolution thriller The Creed Of Violence to be directed by Todd Field, and a remake of the 1978 action adventure The Wild Geese. CAA's Roeg Sutherland and David Taghioff represent the fund.
Oliver has brought over his Cross Creek creative team: John Hilary Shepherd as head of development, and Courtney Shepard as creative executive. Other early hires include former Pixomondo production chief BJ Farmer as vice-president of production, Exclusive Media and IMR International executive Angus Sutherland as vice-president of acquisitions and production, and Paramount TV's Matthew Quigg as development coordinator.
"Earlier stops in my career, especially at Propaganda Films and Cross Creek Pictures, allowed me to learn all aspects of production, finance, distribution, and marketing, and to construct my own company from that extensive knowledge base in every aspect of the business," Oliver said.
"Building a new company from the ground up was a bit more challenging than I imagined and there have been a couple starts and stops with potential financing partners, but I believe the things I learned throughout this process will allow me to position my investors in even better ways for continued success."
New Republic is producing Green Rush with Will Packer Productions after acquiring the spec script about a heist set against the world of legal marijuana dispensaries last December.
Oliver's television slate includes limited series on the lives of Aristotle Onassis, actor Steve McQueen, and Benjamin Franklin.
Kenneth Deutsch of Latham & Watkins and Lindsay Conners of Mannat and Phelps negotiated the Paramount deal on behalf of Oliver and New Republic.