Fifth edition of annual showcase of contemporary French cinema to take place in key cities across the UK from April 23-28.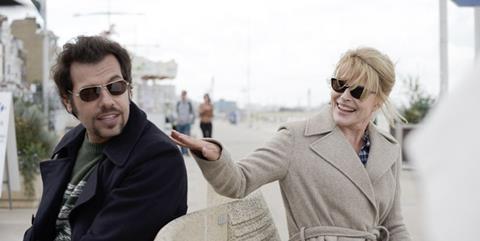 Marion Vernoux's Bright Days Ahead (Les Beaux Jours) will open this year's Rendez-Vous with French Cinema.
Vernoux and lead actress Fanny Ardant will be in attendance at the Curzon Soho in London for a post-screening Q&A.
Run by UniFrance Films and the Institut français in London, the fifth edition of the annual showcase of contemporary French cinema will take place in key cities across the UK. As well as at the Curzon Soho and Ciné Lumière, films will screen in Bristol, Cambridge, Canterbury, Nottingham, Oxford and at the Duke of York's in Brighton.
Speaking to Screen, Isabelle Giordano, executive director of UniFrance Films, says the focus of this year's showcase is to highlight burgeoning talent in France.
"What I would like to do for this edition is to focus on the new talents and the directors that are the avant-garde of French cinema. It's very important for us to present a wide diversity of French cinema so alongside the likes of Roman Polanski and Jean-Pierre Jeunet, we have new talents like Albert Dupontel who the British audience might not know as much about."
The focus on new talent will also be highlight on the opening night with a presentation of French directors working in the likes of advertising and music videos, including Roman Gavroche and Yoann Lemoine.
Highlights of this year's festival include Q&As with Jeunet for The Young and Prodigious T.S. Spivet, Agnès Troublé (aka agnès b.) for her feature directorial debut My Name is Hmmm…, Martin Provost for Violette and Dupontel for 9 Month Stretch.
"Blue is the Warmest Colour is the example of what French cinema dares to do today and you have this spirit in all the films in our programme. This is one of the originality and specificity of French cinema today," outlined Giordano.
The regional screenings will also see a film-maker or cast member present for a curated audience Q&A after each screening. "It's the first time we have so many screenings outside of London, which is important for us to present French cinema all over the country. It's not only a question of presenting movies, it's also interesting to have debate as I think ideas are as important as movies."
This year's event will also see a tribute to the late director Alain Resnais.
Following the recent Rendez-Vous with French Cinema in New York, four of the films screening recorded distribution deals: Jean-Paul Salomé's Playing Dead, Katell Quillévéré's Suzanne, Robin Campillo's Eastern Boys and Serge Bozon's Tip Top.
Giordano hopes for the same with the UK edition, adding that "it's important to also make the screening a discovery for the British audience and that some of them will find new experiences".
Sponsors and funders of Rendez-Vous with French Cinema include CNC (Centre National du Cinéma et de l'Image animée), Ministry of Foreign Affairs, Ministry of Culture and Communication), Monext, LVT, Sofitel and Renault.
For further details, including where to buy tickets, visit Institut français' website.